There are two ways to approach Cha Cha Moon, not in a critical sense although that's true too. Come in from the Ganton Street side, rather than the Kingly Court posh side, and you yomp down a long corridor that runs past chefs all hard at work. They're partially obscured behind the kind of net curtain you used to see in Whitehall, the one to protect civil servants from IRA bombs.
So it's a bit of gosh golly moment when you come upon the large, noisy, busy room thronged with blokes in M&S suits and women on their lunch hour all clearly the foot soldiers from the surrounding offices. Their bosses are all comfortably ensconced in Hix presumably, or perhaps Polpo.
Noodles and twenty-somethings go together like burgers and bloggers, a marriage made in London and until death (from a coronary, in the latter case) do them part. Orange light shines down on rows of long tables that mimic a college canteen and staff bustle about with purpose serving the loud and laughing throng.
I like noodles and I especially like them fried; big wide boys tangled into a pile and larded with plenty of fresh chilli and scraps of prawn and meat. The best I've ever had were out East of course, but you can't expect that kind of cooking closer to home and it's foolish to think otherwise.
The menu, which wanders like a stoned gap year student around the cuisines of Malaysia, China and Singapore, is typically Freddie Mercury ('I want it all, I want it now") and indecision is hard to avoid. The waiter asks us what we want three times in as many minutes and I sense she is losing patience. This is a fast food restaurant after all, as her body language tells us.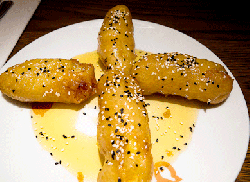 Ok so I'll have Singapore Char Kway Teow made with Chinese salami, egg, chilli sauce, fishcake, Chinese chive, beansprout and wide flat ho fun noodles. Personally I'd say this was a Malaysian dish, but best not to quibble. S stares bemusedly at his menu and finally plumps for Chargrilled chicken Lao Mian with chicken, beansprout, spring onion and wonton noodles. I rather fancied the Chui chow rice cake as a side, but the waitress tells me it's boring, which is honest I suppose, so we have some won tons and spare ribs instead.
S's Lao Mian comes flying out in seconds. The noodles still in the shape they may well have come out the pack in, and the smoky thigh meat is piled onto the side. If this was a cartoon a tumbleweed would now blow past as we wait for something else to arrive. Time passes and S valiantly keeps his chopsticks grounded. Glaciers melt and empires rise and fall and finally I can stand it no more and tweezer some meat from his plate in time to catch the last breath of warmth still in it. It is actually ok but the noodles are under cooked.
Then in a flurry my Char KwayTeow, the ribs and the wontons all arrive at once. The wontons are blisteringly hot and not bad for the money, although I prefer mine to have been given a little fry off to offer some crust. The pork falls off the bones very satisfyingly and while a bit underpowered in the spice department, they have a decent flavour of their own which makes up for it.
The Char Kway Teow needs more kick as it doesn't leap in the mouth the way it should and the chilli is very diffident. Nor is it wok-hot enough, otherwise it's a creditable stab at a staple and there is at least plenty of it. S looks to have dish envy and I can't blame him, so I hand over a pile of tangles for him to try. It's slobbery food, it gets everywhere but that's as much down to our chopstick skills as anything else, but it's food that definitely fills a visceral need.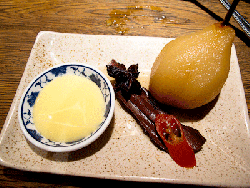 A dessert of battered banana and melon is the usual seaside postcard snigger job and it tastes the same as all the others I've ever had. More interesting is the Asian poached pear in ginger wine, sugar, cinnamon, ginger, star anise, chilli, vanilla cream. It looks stylish and is actually pretty good.
I know some people expected more from Alan Yau of Wagamama fame, and it seems Cha Cha has reverted to a slow waltz since he stopped being in charge day to day. Even so, it's cheap and it's cheerful and, unlike some of Chinatown's finest, you don't get the feeling you're a nuisance to the staff. For a fast affordable feed, everyone can comfortably keep going to the Moon.