157-159 Notting Hill Gate, London W11 3LF www.chakralondon.com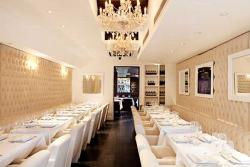 I don't get to Notting Hill much, not since 1977 anyway. It was all a bit different back then, you came out of the tube station with a vague sense of dread and your head rotating on the alert for trouble.
Now you only have to worry about being knocked down by a pretty, expensively dressed, young woman who'sso busy on her smartphone she doesn't see you. Or care.
Chakra as befits this location is no'curry house'. The interior is plush and dressed in muted cream, while the tables are, despote this photo, actually covered in a wipeable dark leatherette, a very good idea as I can reduce a pristine white tablecloth to a Jackson Pollock in minutes. The menu by chef Andy Varma is Punjabi via Lucknow and blessedly short; no endless choices that you know are just variations on the giant pot of basic curry sauce that's bubbling out back.
The attention paid here to offering a real choice of genuine vegetarian dishes, and not simply meat dishes with the meat taken out, is impressive. A Yam Chaat starter for example is tart with tamarind chutney, unctuous with chunks of sweet potato flavoured with earthy cumin, and pokily sharp with lemon. The combination is bright and lively and the dish prettily presented and almost too generous.
Ajwaini Machli we dub'posh fish fingers' but we mean it in a positive way. The Tilapia fish pieces have been rubbed with salt, lemon juice, ginger and chilli paste, coated in besan batter (chickpea) sprinkled with Ajwaini seeds, deep fried and served with mint and coriander chutney. They are quite superb and the little tangle of spiral cut cucumber a crisp and fresh foil.
Mains of Patiala Chaap is another great dish; lamb chops marinated in garam masala and lemon yoghurt, with a breath of cardamom, are cooked just right; a bit of char on the outside and a blush of pink in the centre, We gnaw them down to the bones like Henry VIII at a BBQ and then gnaw some more, unwilling to let the tiniest scrap escape.
Perhaps foolishly we also have Dahi Gohst Masala, foolish because it's also lamb and there is quail, salmon and even Black Cod available, but we both have our meat heads on and I definitely wanted a good sauce to dunk some the nicely non-greasy mint and plain paratha breads in.
Here again the lamb is excellent quality and subtly flavoured with onion and ginger and bulked out with bottle gourd (Ghia dudi), the whole cooked in a bright yoghurt sauce. Portion size here is right, the meat not swamped and the texture of the lamb as soft as the gourd. Heat level is of the kind that only becomes noticeable toward the end, which is pretty much how I like it.
Plain white rice may look boring but its unassuming neutrality is the ideal accompaniment, along with a bowl of creamily black daal, something I always order whenever I see it on a menu. That coarse richness always makes me happy.
Desserts can often be a dead let down but again Chakra keeps the standard up. A nutmeg and cinnamon flavoured apple sponge cake, served with elderflower mousse, is familiar and fine, but the star for me is poppy seed cake with vanilla custard, something I'd never had before. Visually arresting, light and pointillist with seeds, it is dry but clearly designed to be so. The real custard solves that problem.
Prices are, as to be expected, higher than average but so is the cooking and the folks who live on the Hill can afford it after all. If I lived up there, I'd definitely be back to try some more of what's on the menu.