Chapter One,Farnborough Common, Locksbottom,Kent BR6 8NF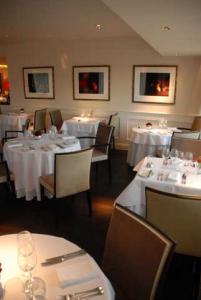 Despite the many Michelin-starred gourmet boltholes scattered throughout this country, and the notable advancement of the British food scene over the past decade, there is still much talk of not being able to find a decent restaurant outside of London and our other major cities. Of course there are exceptions – big name chefs who have gone for it in the sticks, and gentrified culinary clusters like Ludlow and Bray – but a common complaint among foodies is the lack of good, affordable local restaurants which pull off what they're doing with precision, flair and zeal.
When I lived in Leeds, (which, aside from Anthony Flinn's ever-growing restaurant portfolio is somewhat lacking in a city-based 'food scene') the good, neighbourhood restaurants were cherished and celebrated like they were going out of business (which inevitably, some did). People regarded these gems with vociferous admiration and defended them fiercely, precisely because they are so hard to come by. Chapter One in Locksbottom, Kent – is one such hidden gem.
Now by no means am I claiming to be 'discovering' Chapter One. Chef Andrew McLeish has been turning heads in culinary circles for many years with the laudable cooking he does there, which has also seen him hold a Michelin star on five occasions (including in 2009's guide) and four AA Rosettes. His slick, modern European cuisine and his front of house team's faultless service standards are enough to draw in hoards of diners from across the country – and this clearly a destination restaurant – but it's also a welcoming place that you get the feeling looks after the locals.
Its unassuming location, in the culdersac-tastic commuter suburb of Orpington doesn't prepare you for what lies inside. When I arrive on a Saturday lunchtime the dining room is full and lacking the stuffiness that so often comes with Michelin-standard food, which I suspect has much to do with the incredibly affordable menu that McLeish is offering here. At £4.50 per starter, £14 per main course and £4.50 desserts, or a three course menu du jour for £18.50, it's a steal.
McLeish's cooking style is modern European, with its roots very much in the classical, but he's a chef who really cares about provenance, and is clearly passionate about communicating that. He's proud of his restaurant's location in the garden of England, and he shows it using as much produce as possibe from the surrounding area of Kent. Fish comes from Broadstairs and thereabouts, and I like the fact that even the sparkling water on our table comes from Kingsdown (a tiny village on the Kent coast). I also love that we sup on Nyetimber, that outstanding English sparkling wine from West Sussex that's been giving French Champagnes a run for their money in many a blind tasting these past few years.
McLeish cooks with care – not just in his attention to detail (my partner's starter salad of wood pigeon, Pata Negra and apple is as well presented as it is thought out) but in terms of his ingredients. My delightfully piquant mackeral escabeshe – which is fast becoming a signature dish, and a favourite among regular diner Gary Rhodes – is made with the abundant oliy fish rather than the usual red mullet because of the latter's increasingly scarcity.
Considering the fair-pricing, it's good to see that the portions are so generous, and my main course of sea bass is a vast hunk of fresh, fleshy fish, accompanied by a wonderful, almost-floral celeriac remoulade, flecked with lobster and given a pleasing crunch by some toasted hazelnuts. It's a gorgeous combination. My partner's steak is a hefty, bloody ribeye with a deep, charred flavour and sumptuous flesh, served with a copper pot of indulgent black truffle potato puree (which I suspect, given its luxuriant taste is equal parts, butter cream and potato, with a generous handful of chopped truffle).
An assiette of desserts gives us a delicious insight into the restaurant's sweet offering. Stand-outs are the poached plum with honey and lemon icecream, and Valrhona hot chocolate fondant. But it's not just the food that makes our meal thoroughly enjoyable. Our German waitress Melanie is an utter delight. She brims with enthusiasm, and is positively lit-up when it's time for cheese.
We ask her to take charge with the doling out, and she does a stellar job of it, guiding us through all the different cheeses with eloquence. A triple cream Brillat Savarin with a layer of truffle in the center is the highlight for me, as well as the nutty Compte, almost herbal Reblochon and the thrillingly citric Valencay goats cheese which has a salted charcoal coating.
Chapter One is both an outstanding local restaurant and a culinary experience worth travelling for. If you're looking for affordable, consistent and lovingly well-executed food in relaxed but smart surroundings, you could do a lot worse than making the visit to Locksbottom.