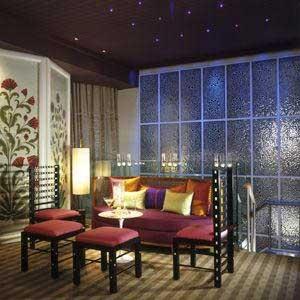 Tantalising our taste buds since 1990, Chutney Mary is a stalwart of the Kensington and Chelsea culinary scene. Sister restaurant to Veeraswamy, Britain's oldest Indian restaurant (Est.1926), this is most definitely not your local curry house. With a sleek interior, bejewelled wall-mounted tapestries and a cluster of plush booth seating underneath a leafy exotic oasis of palm trees, you could easily be forgiven for thinking were in some far off corner of India, instead of Kings Road.
The unique thing about Chutney Mary is that they serve up authentic dishes from many regions of India, instead of focusing on the cuisine of just one region. Taking full advantage of their 'Showcase of Hyderabadi Cuisine', taking place from 17th October – 23rd November, I order the Haleem, Nizami Kebabs and Scallops to begin with. Haleem is a slow cooked lamb dishes made with broken wheat and yoghurt that cooks down to a sticky and delicious consistency that begs to be served with some good naan bread. It is a very special dish indeed and I could quite easily eat a whole plate of it and nothing else. Nizami kebabs are long spicy minced lamb kebabs, moist and piquant with an accompanying chilli sauce. The scallops, taken from their classic menu, come with a saffron-infused coconut sauce and a fiery red chilli sauce giving it the gentle kick it needs.
We go onto have Hyderabadi Lamb Biryani, with Mangalore prawns, Goan green chicken curry and even get to try goose 'Galwati' patties. Biryanis are one of my favourite Indian dishes and this one doesn't disappoint. Huge chunks of tender, spiced lamb amongst buttery and perfectly cooked rice, with a delicate layering of chilli and no doubt a myriad of other spices. The Goan green chicken curry reads much like a Thai green curry, with coriander, chillies and coconut, but it puts the Thai version to shame. Richer in flavour, bolder in depth of spice and a vibrant emerald green in colour with coriander and I also detect a hint of fenugreek too. Giant Mangalore prawns arrive in a spicy tamarind, tomato and coconut sauce, meaty prawns cooked to perfection and every mouthful a real pleasure.
When it comes to dessert, Indian food always falls short of the glory it achieves with it's savoury offerings, however one particular dish on the menu catches my attention and I just have to have it…. beetroot Halwa Tart. 'Beetroot?" You ask? Yes, beetroot. Not the first time I have seen beetroot in a dessert, although it is more commonly paired with chocolate these days. The usual Gajjar Halwa is a sort of carrot fudge that is incredibly sweet but interesting nonetheless but beetroot Halwa is a very different animal indeed. The first bite is unusually subtle and after a few chews a delicious rounded sweetness hits your taste buds, not too much that it feels sickly, but just right. I manage to devour the whole thing in four bites and I couldn't be happier. It is definitely my kind of dessert, light, not too sweet or heavy, the perfect end to my meal.
Service is just as you would want it to be, attentive but not obtrusive and the restaurant is busy with eager diners awaiting their respective feasts. Overall a great meal in a great restaurant and definitely somewhere I shall be visiting again soon.
Chutney Mary's 'Showcase of Hyderabadi Cuisine' is running until 23rd November.