The Company Shed' – 129 Coast Rd., West Mersea, Essex. T. 01206 382700.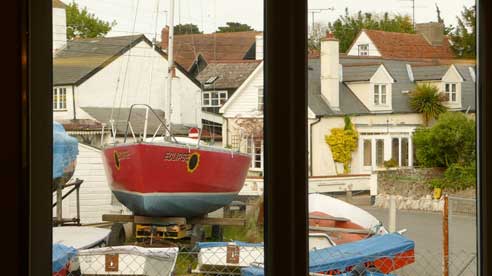 If Kirsty Young invited me to name my desert island dish rather than disc, I would probably say 'shellfish", which seems apt. A recent craving for crustaceans took me to Essex, but not as you know it. Colchester's Mersea Island is just five miles by two of tidal salt marsh. Whilst far from the dreamy paradise of Radio 4's flagship programme, it boasts atmosphere in bucket loads. There is a vineyard, pub, seven B&B bedrooms and a peeling family-run shack known as 'The Company Shed'. With fluorescent strips, kitsch ornaments and efficient rather than effusive service, this wet fish shop with tables has become a favourite of Michelin jaded restaurant critics
Perhaps it was ambitious to have headed down on a bank holiday weekend, misguided an hour off course by a deceptive Sat Nav. Regardless, our (misspelt) name chalked on the waiting list, it wasn't hard for three friends to while away an appetite building hour at the water's edge. As rigging clanged against masts, we liberated a bottle of rock-pool mineral, oak bevelled 'Gavi di Gavi' from Northern Italy (so good, they named it twice).
Once inside, we shared a cheerfully clothed Formica table with glinting-eyed locals. They in turn shared a paper plate of 'Gigas' (rock) oysters, suggestively introducing the gift with, 'we hope they work!"
From a waiter in authoritative wellies, I eagerly took charge of ordering. The iodine, brine and ozone whiff of the sea continued onto the plates. We methodically worked our way through the last of the season's saline fragrant, native oysters famous from these parts since Roman times, whole sweet, roe-laden lobster sliced in two, meaty, tangy, hairy crab, soft, succulent, springy prawns, long silken mussels and fat cockles doused in vinegar. We followed this with gently grilled buttery scallops, garlic sodden langoustines and elegantly smoked salmon and mackerel. No vegetables trespassed this fishy spectacular.
The shed provides cracking utensils, Tabasco, the occasional lemon segment and kitchen roll. You bring bread, wine and glasses (no corkage) and if you must, mayonnaise.
Afterwards, we begged a behind the scenes tour. Tall purifying racks of oysters gurgled behind shower curtains. Trays contained oysters from different beds, distinguished by fading coloured thread bracelets. Just landed and under ice, a beautiful, bony-spined, stingray like skate tingled. Disorientated crabs grabbled – apparently the shed gets through 50 stone each week. I was encouraged to sniff a 'smelt', a small, pretty silvery fish imbued with the scent of an allotment fresh cucumber. Apparently it is best fried then eaten whole
Having amassed a charnel house of spent cartilage, we left comfortably full for a stroll along the shore. It had been a lavish meal at a bargain price.
Close-by, a boy showed-off the biggest of his in truth rather small bucketed crabs and variously patterned mongrels growled at eachother before reconciling the row with a dogged attempt at humping.
Apparently Giacomo Casanova slipped 50 oysters a day. My record is 30 at 'Wright's' in Borough Market, although only a rising bill and a waitresses' disapproving glare stopped me from ordering more. I used to have coffee at a greasy spoon whose the owner boasted of the time he swallowed over 100 bivalves in the company of supermodel Kate Moss. It was a tale so outlandish that I half believed it…
Check the tide tables