Comptoir Libanais, 1-5 Exhibition Road, LondonSW7 2HE www.lecomptoir.co.uk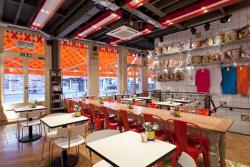 Tony Kitous, the man behind Pasha, Kenza and Levant has clearly discovered that Londoners can't get enough of 'glamorous Middle Eastern cuisine' and having eaten there, I can see why. This is colourful, affordable, healthy food that reads light on the page but totally fills the tank. By the end of dinner I felt so full I could barely breathe, but this was perhaps more down to the whirlwind service than the cooking.
Things got off to a good start with a warm welcome at the door and a personal introduction to our beaming waitress Aga in her cheery orange t-shirt. Our table for two by the window was ideally placed for some posh people watching and if the Kensington catwalk gets dull there's the curios of the in-store souk to catch the eye, stacked to the ceiling with appliquéd baskets, ceramic bowls, Turkish delight and harissa paste. The walls and floors are authentically tiled and brightly lit, evocative of the eat and run hole-in-the-wall joints of Marrakesh or Cairo and the noise was buzzy without being overbearing.
There's an interesting wine list featuring some bold sounding reds from the war-torn Bekaa Valley but to celebrate being out on a Wednesday we ordered a manly Arak Mojito, made with Lebanese aniseed liqueur instead of rum, and a gloriously girly Vodka Toufaha with mint, apple and ginger lemonade – the taste of summer in a glass.
The menu is storybook sized yet chock full of none too surprising standards. It didn't take long to decide. A pimped up Baba Ghanuj resembled the Crown Jewels in a bowl. Expertly smoked aubergine purée, rich and smooth, cut through like Sinbad's cutlass with pungent tahina and zingy pink pomegranate seeds, topped with crunchy roast walnuts, led to five whole minutes of 'mms' and 'ahs', broken only to thank Aga for correctly anticipating our need for extra pita bread. Grilled Halloumi steak was perfectly charred, delivered minimal squeak, and came on its own with a dollop of fig jam. A little salad on the side wouldn't have gone amiss to help assuage the saltiness.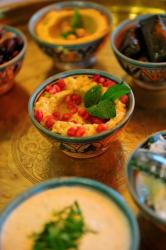 Mains arrived while we were still greedily scooping dip with our fingers. Comptoir is a high class fast food joint with quick table turnarounds so if you're a slow coach like me, there's not much time to pause and digest between dishes. It's a mezze culture where if it's cooked and ready, it's served. A tagine of chicken, green olives and preserved lemons came with couscous all-in-one in a terracotta bowl. The flavour was authentic and lightly spiced, the chicken tender and off the bone. My one gripe would be to exchange the meagre slivers of olive within for whole or halved fruits and to have the tagine in a separate bowl with more of the cooking juice supplied, but hey, no biggie. A mixed grill of lamb and chicken kofta, chicken shish taouk and organic rice came two by two, great for sharing, with punchy tahina and harissa based dips on the side.
By this time I looked like a gasping guppy fish, such was the speed with which I'd attacked each plate but, in the interests of fairness, dessert was duly ordered and delivered to the table in under three minutes. Four bars of Hadath, a sweet flaky walnut pastry, proved a challenge too far for my friend, who managed a few claggy mouthfuls before conceding he too was now struggling for air. My frozen yoghurt with strawberries and rose water was quite the loveliest thing: pure and white as the driven snow, peppered with scarlet shards – an angelic close to a happy meal.
For three courses and two drinks each, the bill came to £69 which is alright and probably over-egging it for a midweek feed. We didn't need to eat as much as we did. Book ahead, take some friends, order as you go and you'll have a good night out for less. As a midweek fuel stop, I couldn't fault it.