Coya, 118 Piccadilly, London, W1J 7NW
If you're after a good example of a PR machine delivering, look no further than Coya in Piccadilly. Ground level gossip grew amongst the whispers of journos and foodies, ignoring mainstream media channels of "oy, come here, buy this, have a nice day". It almost felt a bit'cool' to mutter the restaurant name as a hot tip to eat, with the added justification of your tip being reinforced by the track record of owner, Arjun Waney.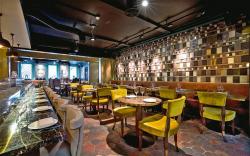 A short stroll from Green Park and you arrive at 118 Piccadilly, a blank building, which houses a mini Peruvian paradise inside. Upstairs there's a members' lounge boasting sophistication and swagger; fabulously furnished with a courtyard for the sunny days. It's almost a mini Arts Club or Home House, but I'm ready for the barrage of disagreement from the'trendies', who presumably will slam me for cross-contaminating the cultures of the elite, yah? Oh it's so not Home House, daaaaaarling.
Go downstairs and you immediately enter the open plan bar that would be fit for any Inca playboy to show off on an episode of Pimp My Huasi. The low-lighting accentuates the shimmers of gold and silver that act as a contrast to the carved dark wood and stone. It's classy but comfy and bottles sit behind the bar on shelves portraying themselves as sought-after treasure.
Coya's dining room is a large open space with a lively bustle and rarely, if ever, an empty table. The dining room is kitted out with a ceviche bar and an open grill as novelties for diners to cast an eye on, but if you don't manage to get a table close enough then it's not the end of the world. Remember, Inca, not Maya. Don't be so dramatic.
Ceviche is a certainty with two courses being memorable. Sea bream, amarillo chilli, cripy corn and coriander is a great combination of flavours and momentary spice that's manageable for chilli pussies but also ticks the boxes of hardcore heat hedonists. A fresh citrus dressing muffles the burn and the ice bath underneath keeps the fish cubes incredibly cold. Alternatively a notable yellowfin tuna, soy, sesame seeds and shrimp cracker dish is available. A much saltier option with umami undertones bursting around the mouth and hauling the sleeping tastebuds out of bed.
Our next course is Anticuchos – marinated meat fired on a charcoal grill. We're served chicken with aji amarillo and garlic, as well as beef with aji rocoto and coriander. No complaints at all, the meat chunks are juicy, seasoned and tasty, but it's not a course to plan the visit around. We've also got two accompaniments of asparagus and potatoes. The asparagus is al dente and tossed in a panca chilli and garlic seasoning. The potato offering is a classic Latin dish of patatas bravas with a huancaina sauce. It's a nice example of matching meat and veg flavours without the need for any flair.
Two signature dishes that you ought to try at Coya make their way to our table. For carnivores there is a pretty special dish of Rib Eye, chimichurri and aji rocotto salsa. It's cooked in a traditional Josper charcoal oven that adds a nice smoky flavour and produces really enjoyable thick slices of meat, oozing juices, soft and tender, you will not be disappointed. If you prefer fish, the Chilean sea bass, rice, lime and chilli is outstanding. It's similar to black cod, only without the sprinkling of pretentiousness. Succulent chunks glide off from the main fillet, the chilli and lime is a punchy dressing and the dish retains its lightness; probably wiser to opt for the sea bass if you've got eyes on a heavy pudding.
Dessert is a combination of Arabica parfait with Zacapa poached pear and a Fortunato fondant with roasted white chocolate ice cream. You're either a fruit dessert person or you're not. I'm not. It's a nice boozy and sweet pear but I'm not converted to choosing poached fruits. The fondant is more my style and had we eaten a lighter course before dessert it would have been perfect. As it turned out it was slightly too rich and heavy after our mountainous fish and meat masterpieces.
Does the restaurant live up to the hype. I suppose not if I'm honest. The combination of Arjun Waney's creativity and Sanjay Dwivedi's cooking deservedly demands attention; however the overall impression is a little underwhelming. You ought to go for the main dishes of the rib eye and Chilean sea bass alone, in fact the ceviche is equally outstanding. Come to think of it, the cooking and décor are great, so perhaps the only element that's a little overcooked was the arguably unbearable hype? It's not the owner's ace in the pack, but it's worth the trip. I'm left satisfied and despite being full, I've still got the impulse to load up NightOwl and find a nearby place to shake my moneymaker. Book a table and tell me if I'm wrong.