59 Charterhouse St,London EC1M 6HA www.cubana.co.uk

You have to admire old Fidel. Sending his country's criminals, drug addicts and other unwanted people to America as'refugees', as he apparently did in 1980, was a masterstroke of comedy and a major embarrassment for a certain governor of Arkansas at the time. Not that Clinton didn't see further embarrassments later, of course.
Today relations between the capitalist world and Cuba have thawed considerably and even tourism is on the up since the United States formally dropped Cuba from its list of state sponsors of terrorism.
Now Cuba is exporting stuff apart from cigars, and one thing that seems to go down very well in the west is its coffee, cocktails, nightlife and their food, a heady mix of so many influences.
Cubana Smithfield owned, somewhat ironically by a former Conservative Treasury minister, follows on from Cubana Waterloo's success but with an artisan bakery and coffee roaster featuring a 15 kilo batch Giessen and sustainably-farmed Cuban mountain coffee beans.
The roaster is on clear view in all its mechanical glory as you go into the once derelict Smithfield warehouse, whose high ceilings and rough-hewn walls do give off a very Havana vibe – at least to someone like me who has never been there. I did read a lot of Graham Greene, though.
The entryway is doing food in takeaway boxes to hungry lunchers served out of the kind of metal keep-warm trays you see in hotels. It all has a very rough and ready feel to it, which is rather charming and seems to be born of practical necessity rather than some designer's beautiful mind. Portion control is down to the server's big spoon, not scales.
Further back is a dining area which maintains that'could be in Cuba' feel with natural light from above, an open kitchen and tables and chairs of minimal canteen style and bright of colour.
And with Cantina Lunch special at just £10 for three courses it's canteen prices too. Off the compact menu we tried Cuban falafels made with garbanzos (chickpeas), sweet potato, plantain, coriander and spices, served with homemade tomato salsa.
These had a rather suspiciously uniform shape, like mini hockey pucks, but were an interesting take on usual falafels with the sweet potato making them very smooth and, well, sweet actually. I could have done with some more spices to liven them up, but the tomato salsa helped, as did a squeeze of lemon juice.
Sweet potato and organic chorizo croquette with homemade tomato salsa were a bit livelier but D couldn't really offer much of a verdict finding them palatable without being interesting. I have to admit I didn't try one, so can't confirm this.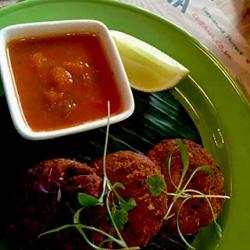 Ropa Vieja is apparently a Cubana signature dish – shredded beef served with black beans, plantain and chilli plantain rice. Now you and I might call it a chilli con carne in all but name, but it was much sweeter and not as fiery as it has no spices. Ropa Vieja means'old clothes' in Spanish, by the way, a reference perhaps to the shredded meat's appearance.
It was backed up by the fried plantains, which I found surprisingly pleasant in taste and texture and the rice was all right, just rice really. Needed some more chili though to justify its name, but then don't most things? There was chili sauce on the table, but I don't do sauces as it seems rather stupid to soak down food with sauce after a chef has made an effort to make it tasty on its own.
Cuban slow-roasted free-range marinated pork for D got the response' a bit dry' when I asked him about it. Also served with chilli rice, Cuban black beans and plantain it also got the response'a bit hot', as the plantain was still rather slick with the oil it had been fried in and he burnt his lip a bit.
We both cleared our plates though, which has to be a good sign, and felt hunger had been satisfied. Even so, I tried their homemade fresh lime cream pie topped with marshmallow meringue and it was as sickly, in a good way, as it sounded. The sharp and the sugary balanced out, a firm crisp base and a lot of it on the plate too.
Had to have a rum and coffee after of course and yes that coffee is very good, drunk as it should be in a tiny espresso shot.
Obviously this was only a review of a fast, cheapo meal and the menu has much more choice. I suspect it's all a lot more lively in the evenings too when the mojitos flow and that Cuban vibe gets going.
Cubana use free-range chicken, pork and eggs and Marine Stewardship Council certified wild fish, which can't be bad and on this showing the food has potential if treated as part of a night out on the sauce, rather than as a destination restaurant.