http://damngoodcurry.com/
Once in a while, I'll be at a friend's house – at one of the few who still share lodgings – and come mealtime, the flatmate will whisper conspiratorially to my host, "Is Anita cooking a curry for dinner?" I'm of Indian origin. And female. So of course I am genetically a masala maven with the bounteous cry of the sub-continent coursing my cumin-flecked bloodstream.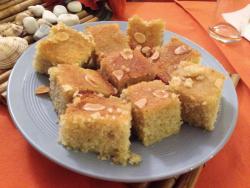 Once I've swiftly bludgeoned their naivete – and refused pasta – a low-cost local is the usual solution. Because, unlike the many Indian food bloggers and writers out there, my pleasure is mainly in the sampling. And my expertise – in Indian food at least – is informed by a family not into foodie fads but for whom tasty, home-cooked food is an expression of love, a communication and a curiosity.
I say all this because that is why I was so pleased to be going to Damn Good Curry – a supperclub where another Indian woman was cooking. Nilanjani Dilling Pai has Goan origins and is similarly from a family who loves food – and let's face it – that's almost everyone in India.
The 'Goa On Your Plate!' menu crammed in plenty for £25 per head. I hope Nel does more supperclubs – this was her seventh – as the food was excellent and had a very homecooked taste. This means that many palates won't recognise it as Indian because it tastes authentic. Weird, huh?
The venue was a cosy little lodge, a base for the bowling green outside. Its white beam rafters overhung a very cheap bar complete with friendly barman straight out of Bullseye. Nel said this was the second time she'd chosen the place because, "it's very colonial".
Damn Good Curry is billed as a supperclub, although it's held in a public venue rather than Nel's own house which she says is too small. Additionally, hosting it at home would encroach on her small daughter's privacy. This makes it almost a pop-up, and the atmosphere was indeed genial and poppy with a couple of big parties.
Most people were non-Indian, from what I could make out, and in their 30s-50s – so none of the uniform Hackney-ed supperclub clones, thankfully. Tapered pleat trousers? They made your backside look big the first time around, fools!
The starters of Mirchi Bhajjiya and Batata Bhajjiya – deep fried green chilli and sliced potatoes respectively, coated in gram flour batter, are not considered starters at all in India, says Nel, because they don't serve meals in the Western manner. They're more a streetfood.
I loved the Choris Pav – spicy Goan sausages (chorizo) diced up then cooked with onions, vinegar, spices then stuffed in a bap. The couple that source and sell these are a lovely, genuine pair who have, they say, supplied Rick Stein in Padstow and Cyrus Todiwala. The Dos Santos pair come from Goa, via Kenya and Croydon – a very exotic journey!
First up for mains was Mutton Xacuti. The supperclub menu says: "The Xacuti is iconic. It is probably one of the most well known dishes in and out of Goa. It is made with slowly roasted coconut and onions, ground with a variety of spices. The roasting gives it a wonderful smoky flavour that's distinctly different from other curries. Oh, and not to forget …. this one is hot hot hot!!"
I say: It wasn't that hot but had a smoky, almost treacley thick sauce with very tender meat. Nilu had been up hand-grating the coconut since dawn. Pronunciations at our table ranged from Cicooti to XCity – real way – shacooty.
The Chicken Cafreal was my favourite savoury – chicken thighs marinated in a green masala paste made with coriander, cinnamon, cloves, pepper, green chillies, garlic and vinegar. The trick, says Nel, is in adding, "the one that makes it: green cardamom." Without this, she says the balance would be all wrong. It was a gorgeous dish, really fragrant with a flash of sour.
The Prawn Curry contained delicate flavours, with hand-grated coconut so fine it was almost meal. Nel said this was the dish she was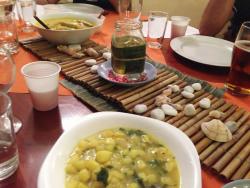 most worried about, because, "it's all about timing with prawns" but she needn't have worried, they were just right.
However, I would have cooked the drumsticks a little longer till they were less crunchy – apparently some non-Indians were perplexed at how to eat these and one lady suggested that Nel should explain. I say let people make their own mistakes, drumsticks are a brilliant invention, just don't play the tabla with them.
I also liked the Cafe Bhosle Bhaaji – a light potato curry. The menu says: "Cafe Bhosle is a local cafe that was established in the capital city of Goa, Panjim in the 1920s. The bhaaji pav that they serve at breakfast is legendary. This is the potato bhaaji as they have done it for years." Apparently, Nel and her friends would stay up all night then pile into this café at 6am where they'd eat this dish with puri – little fried breads – for breakfast.
To be honest, it was the simplicity of this dish I loved. I heard some English people at the next table call it 'bland', a wonderfully perverse irony which brought to mind the Goodness Gracious Me "going out for an English" sketch.
It wasn't bland. It was gentle and very authentic – little cubes of potato floating in a slightly tacky (in a good way) sauce, punched up by only mustard seeds, curry leaves and little else – perfect. In between, we had Sol Kadi, a digestive drink which takes a bit of getting used to. Apparently, it's very popular as an aperitif and dijestive in Goa, although it tasted like salty, sour brine.
However, Baath came to the rescue. Oh Lordy. The absolute best bit about the dinner was the Baath, a traditional Goan semolina cake made with fresh coconut at Christmas by the Goan Christian population. It was magic; moist, having been drizzled in rose syrup; textured, having coconut crunchy bits in it, and, sadly, left behind; I'd surreptitiously wrapped a bit in a napkin to sneak out later and eat on the tube home. But I left it along with these notes on the table. Strangely, only my notes were returned to me.
Nel's next supperclub, 'Taste of Goa', is on Friday 20 September. For more information and to book, visit www.edibleexperiences.com
Damn Good Curry is part of Action Against Hunger's 'Supperheroes' Campaign, and will host a charity evening on 5th October. For more information and to book, visit www.edibleexperiences.com
Follow @NilanjaniP on Twitter