They told me Dolada would be expensive, which was about as shocking as being told the Pope's religion or the bathroom habits of bears. I'd have been more shocked to be told it was cheap. It's a Mayfair restaurant guys get real, there's no recession here.
It does look a bit pricey when you go in; the trouble with lower ground floor places is that you can't reconnoitre through the window first, so by the time you discover it's a) empty b) too posh c) bloody awful it's too late, or it is for most English people who'd rather sit through two hours of Hell's Basement than suffer the embarrassment of reversing back up the stairs again.
Luckily Dolada is none of the previous things; in fact it's welcoming and pitched about right for the area with pleasant low lighting and decor that breathes opulence without the halitosis of snobbery. We're early at 7pm but it's filling up quite nicely all the same and chef Riccardo De Prà has time to wander about saying hello to friends. Personally I think a chef's place is in the kitchen, at least until dessert, but I suppose it's reassuring to see he has confidence in his team.
Riccardo is actually a bit of an unusual Italian chef having spent considerable time in Japan, as well as under the tutelage of Ferran Adria of El Bulli fame, and it shows in his cooking. The dishes are Italian, but presentation verges on the Zen and he deconstructs dishes so that they can be reconstructed by you at table. Should we get a discount for doing the extra work? We ponder this while eating an amuse – an eggshell that contains a marvelous crème studded with asparagus. This bodes well for the rest of the menu
The dishes don't really explain themselves to best advantage, either underplaying them or causing you to ask the waiter to tell you more, which must get very tiresome for the poor man. I was intrigued by 'Frico by the glass" potato and cheese appetizer and wasn't all that clearer after being told, but I ordered it anyway and boy was I glad I did. This was hands down one of the most enjoyable things I've eaten in 2010.
Basically it's a large glass containing gently cooked new potatoes layered with melted Montasio cheese and smothered in a kind of whipped cream sauce. The cheese has all kinds of textures; from slightly burnt, to chewy, to silken and the potatoes are smooth and delicate. On the side comes a lattice crisp of cheese which is the Frico itself. It was marvelous.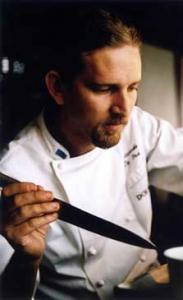 P has Aubergine and Robiola ravioli, fresh almonds and tomatoes which is again superb – finely balanced, delicate and beautifully plated, the crunch of the almonds balancing the silky smooth pasta perfectly. This is fine Italian for sure.
Things go a bit awry on the mains though. My Roasted lamb tagliata, wild mushrooms tagliatelle is really two dishes on one plate. The Primo – the tagliatelle is excellent but the perfectly cooked and generous roasted lamb steak should have been served after as a secondi in the traditional manner, perhaps with some salad or green vegetables. Plonked on top of the pasta it seems ill at ease and practically speaking, difficult to reconcile on the fork. I loved both parts but would have loved them more served separately.
P is unhappy with her Cotoletta alla Milanese, with crispy roast potatoes. It's enormous for one thing, far too much for the average diner, and it's dull too. I suppose we shouldn't have expected too much from this classic dish, but with Riccardo serving every other classic in a new way – you make the spaghetti carbonara yourself, the lasagnas are created on the spot, not baked in the oven – we thought this too would be surprising and fun. It's not. The veal is fine but too thick and the breadcrumb coating is stodgy. She can't eat it all and suffers meal envy watching far more interesting dishes go past to other diners.
Desserts return to form, Panna cotta with exotic fruit salad sounds a bit saucy – exotic always goes with 'dancers' in my dictionary, but it is wonderfully wobbly and smooth with the surrounding fruits creating a world trip of taste and texture. Good too is my Almond and hazelnut parfait with caramel sauce.I love caramel and can eat any number of Curly Wurlys, especially as they seem to have got smaller, or have I got bigger? The recommended dessert wines were well worth the extra, one light and sparkling for the Panna cotta and one honey-rich for the parfait.
There's no doubt Dolada offers a real Italian experience quite unlike any others and for my money far better than Heinz Beck at Apsleys. The cotoletta could be cut from the menu and the lamb tagliatelle re purposed, but I'd go back just for a bucket of that Frico. It was friccing fantastic.