The Refinery, 110 Southwark Street, London SE1 0FT Tel: 0845 468 0186 www.therefinerybar.co.uk
My most recent memory of Southwark Street is from 2007, of very dreary lunch hours, breaking up unspeakably dull days of jury service. The whole area seemed, at the time, to be quite barren, with little of interest to pass the time. Since then, a number of shops and eateries have sprung up, giving the area a much needed lift: one of the more popular venues is The Refinery.
The Refinery is one of three sister bar/restaurants in London, of which more later. We understand that all three have the same standard menu, but have differing daily specials, depending on what's available from local markets. At The Refinery, there is always one fish option, sourced fresh from Billingsgate Market, and there's a wet fish counter so you can see what you could be eating later.
The decor has industrial elements, with exposed metal and pipework, but this is softened with an interesting mix of furniture, and fabrics in muted shades of green and gold. The overall feel is comfortable and relaxing, but with a contemporary edge.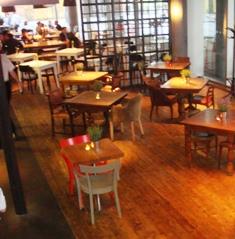 When we arrived, we were feeling quite hungry, so we started with puglia marinated olives, which were a nice mix of green and black, with a hint of chilli to give them a kick. For starters, we decided to share the crispy squid with ginger, pink peppercorn and citrus mayo, also the prawn and lemongrass lollipops with citrus-soy dipping sauce. The squid was nicely cooked, retaining some bite, but without being cooked into rubberiness; the accompanying mayo was delicately flavoured, and balanced the dish nicely. The four king prawns were presented with a nice touch of theatre, each sitting atop a skewer, stood in a wooden board… perhaps it was our relative proximity to the Thames, but it put me in mind of Traitors' Gate – a bit macabre, maybe, but in a good way. The prawns had a very delicate tempura-type batter, and were full of flavour, with the dipping sauce adding a welcome tangy and salty note.
Onto mains, and from the daily specials, whole plaice was a substantial beast – I was half-expecting a number plate to pop out of it. The fish was well-cooked in butter, the flesh firm and moist. On the regular menu, several things appealed, but the chicken breast, stuffed with marscapone and wild mushrooms, wrapped in crispy pancetta stood out, and was a great choice. The chicken was perfectly cooked, tender and juicy, with the stuffing adding an earthy note; this came with a huge amount herbed potatoes, which were delicious. To accompany the fish, we had a portion of truffle fries with parmesan shavings, and they were fabulous: perfectly crisp and crunchy, fluffy on the inside, and packing a huge wallop of luxurious, musky truffle flavour. The parmesan was a nice finishing touch.
To finish, we had the lemon meringue sundae, comprising lemon curd, vanilla ice cream and candied lemon, plus the banana split with cherry jelly, vanilla mousse and banana parfait. Both were substantial and rich desserts, served in knickerbocker glory glasses (also on the menu); the lemon had excellent sharpness, tempered by the sticky sweetness of meringue, while the banana split was slightly richer, with the cherry adding a nice red-fruit note and a little tang. Both dishes were a great way to end out meal.
The wines we tried were both from Chilean Ochagavia range; sauvignon blanc was dry, crisp and very refreshing, but with some body, while the cabernet sauvignon accompanied the chicken really well, full flavoured and delicious. Service at The Refinery is professional and unobtrusive, but also welcoming and friendly. We enjoyed the atmosphere, the music from the bar adding ambiance, without making conversation difficult.
As mentioned, this is one of three venues within the same group, the others being The Parlour in Canary Wharf (you can read our review here), and The Anthologist, a new bar/restaurant in the City. We've certainly been impressed with both places we have been to, and can happily recommend them. If you do find yourself in SE1, it's worth venturing away from the perhaps better known spots close to London Bridge or Waterloo, and spending some time at The Refinery.