Danielle visits the latest bar and restaurant venture to open its sleek glass doors in the regenerated area of N1C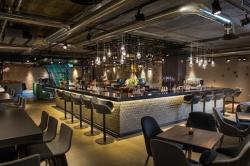 As part of the recent regeneration of the area around King's Cross, Drake & Morgan (the latest opening of the nine London bars and restaurants owned by the eponymous company), blends in with the sleek glass buildings that scream, 'new, new, new!'
Your reflection and the city lights bounce back at you from all angles, creating an impression of a smart, small-scale downtown Manhattan – and this vibe continues as you walk into the restaurant with its soft mood lighting welcoming you into the spacious, sleek interior with a view towards the busy open kitchen and rows of tables and booths, some adorned with sheepskins and blankets.
There were other theatrical touches, too; jars of sweets in the luxurious toilets, hot-water bottles by the entrance and rustic loaves piled up high on display, all shouting, 'look at me' – and it did raise a smile, rather than a grimace.
The menu from head chef David Green, although using British and European influences, felt like a tribute to Americana with a big grill section featuring dishes listed under 'Sea, Air, Land and Veggie', steak and gourmet burgers, such as the buttermilk chicken burger with chipotle mayo and a steak sandwich with roasted garlic aioli and melted onions. There were European influences, too: bangers with mash and red onion gravy, butternut squash ravioli with walnuts, brown butter and balsamic all interspersed with other unusual dishes that wouldn't look out of place on a menu in NYC such as lobster mac and cheese.
We looked at the large choice of salads and small sharing plates and went for the crab fritters with sweet corn and chilli, which had a pleasing crunch although I couldn't actually taste the crab plus the tuna tartare, which my friend thought could have tasted fresher, although the zingy sauce finished the dish well.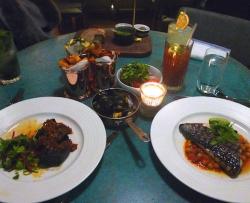 Our waitress was friendly and attentive and made sure we had everything we wanted. Although the wine list was extensive, we went for a couple of classic cocktails (mojito and Bloody Mary), which were both spot-on.
For mains, my friend had the fresh fish of the day, sea bream on a bed of chickpeas and tomato with a side dish of mussels, which she felt was a tad overcooked, while I had the duck breast with chilli glaze. Our waitress said this might come 'a bit pink' so I said I'd prefer it to be cooked a bit more. However, the blackened charcoal effect that arrived wasn't exactly what I was after.
Next time, I'll keep schtum and go with the restaurant recommendation. We also ordered the 'trio of fries' consisting of cowboy (honey, chilli and garlic) a bit sloppy and sickly; roman (parmesan, truffle and rosemary) crisp and good flavour combination; and sweet potato fries, a great combination of salty and sweet, crispy and fluffy.
Dessert was tiramisu, which was creamy and rich but didn't have enough of a boozy coffee kick for me, while my friend chose the salted caramel tart which she felt didn't have enough depth of flavour and tasted a bit 'plasticky'.
Atmospheric and buzzy, I liked Drake & Morgan for the immense effort and thought gone into its identity and personality; but I felt I could have made better food choices. Maybe I'll go all-out Americana next time.