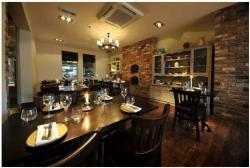 My writing career began in London and inevitably when you take a cab to a restaurant you're bound to end up in a conversation about food. What London cabbies don't seem to understand is that Birmingham, my home city, has a lot more to offer than curry or food "cooked by that Purnell geezer".
Fiesta del Asado is a prime example and the second city's first Argentine Asado restaurant. It's located on the Hagley Road, nearby to affluent areas of Harbourne and Edgbaston, and boasts an impressive team of the award-winning men behind Lasan, Jabber Khan and Aktar Islam, along with creative genius Andrew Kleanthous.
The interior has a nice rustic feel to it with plenty of dark wooden fixtures and floors with exposed red brick jumping out from clean white walls dotted with open cupboards filled with clay pots and trinkets. The open plan layout gives you a feeling of freedom without isolation and the kitchen remains visible from many tables, with a bold wall of cured ham on display.
The bar is busy when we arrive with bottles being shared amongst large groups. It's a comfortable and friendly atmosphere, low lighting assisted by warm glows of the candles on each table and the open fireplace in one of the main rooms. The tables are neatly presented, as are the staff members, who are excellent in helping you select your food and drink for the evening.
A few nibbles of freshly baked bread with chorizo pate and slices of Iberico ham are a welcome beginning before our starters of Empanadas arrive. We have a selection of three flavours, each with its own distinct shape and size. I begin with chicken and sweetcorn, which is tasty and useful as good fodder to try out the accompanying roasted red pepper chutney and delicious spring onion & cilantro sauce. I choose not to add anything to the beef and potato Empanada as it's balanced nicely and is the clear favourite. The final flavour combination of spinach and provolone cheese is wonderfully soft and creamy and the pastry is light.
After a couple of glasses of white wine we move on to sharing a bottle of red, recommended by the house to accompany our selection of meat main course and given plenty of breathing time before it hits our lips. Seeing as we're sampling a selection from the grill, or parrilla, it's a broader range red that manages to complement the lamb, sausage, beef and chicken we're about to receive.
A main course for two of Parrilla Mixta reaches the table and immediately whets the appetite. A dish piled with freshly grilled succulent cuts of meat, slowly smoked over specially selected applewood chips to seal in the flavour, is accompanied by side dishes of truffle cream potato salad, homemade fries with garlic and a green salad.
The first of the two sausages is a deeply rich morcilla that crumbles apart revealing little flakes of caramlised red onion, which help to clean away the thick texture of the sausage. Then we have a Chistorra Artysan, a spiral sausage much like a chorizo without the large lumps of fat or gristle and just as juicy. A clean chicken wing, moist and slightly charred, is a perfect follow-on to remove any lingering paprika taste. The truffle cream potato salad is pretty spectacular and definitely worth ordering.
A cutlet of lamb, beautifully pink in the middle without burning the outside, is a thick piece of meat and yet avoids being undercooked and flooding the plate with blood. Two chunks of rump steak with a thick outer coat of fat that pumps flavour with each chew are devoured quickly. However my favourite from the selection is the thinly sliced bavette steak with charred sear marks, giving a nice little crunch but a pink inside that is velvety soft.
As you can imagine, we're pretty full at this point but I can't avoid trying the sugary churros with spicy hot chocolate dipping sauce. They're a lot lighter than I'd imagined and the spicy hot chocolate sauce is cheeky but not fiery enough to put off the less adventurous diner.
Overall we've really enjoyed the evening. Not only have the management team mastered the cooking technique but they've also embraced the term Asado in its other meaning, that of being a social event. You can expect a lot more to come from this restaurant, not just in the menu offering. I'd recommend going and keeping up to date with what's just around the corner.