William heads to Stoke Newington's latest foodie offering and delights in indulgent comfort – it's just a shame he's struggling to see what he's looking at.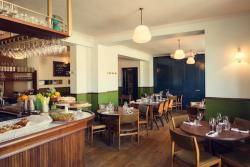 The chaps from the Hawksmoor have had their hands, perpetually slick with bone marrow and beef dripping, all over what used to be Homa in Stoke Newington.
The result is a second of their Foxlow restaurants, the name that signals a semi-skimmed version of the full fat Hawksmoor experience. Naturally steak is still on the menu but it's not quite as expensive, and there's the notion that you might consider eating something other than flame-licked beef.
Hawksmoor, particularly the Air Street branch, is a place to go for slinky, romantic dinners. You get dressed up to go there and then eat steak while swapping indecent ideas about what you might do with your partner when you get home via the light that flickers in your eyes whenever they meet.
Foxlow, on the other hand, is a place to go when the person with whom you went to the Hawksmoor has left you, and your only desire is soothing carbs and a mope in clothes that could easily pass as pyjamas.
That's because the food on the menu is the gastronomic equivalent of a cuddle from a sympathetic, fat grandma. Macaroni cheese, a Dexter cheeseburger, slow-cooked beef, and fried chicken are clearly intended for those who need the comfort of rich, lavish stodge.
There will, of course, be customers who are neither heartbroken nor hungover. For them, there is still the odd touch of lightness. A starter of salmon is delicately cured and comes with the unusual fruity tang of whole red peppercorns.
The coating on crispy five pepper squid isn't quite as crispy as its billing suggests but the flesh itself is perfectly cooked. Coriander, lime and sliced chilli add freshness and vibrancy. You may want to cling to these memories.
For it's only hours later, when ice cubes and clear mountain streams appear by your bed in thirst-induced hallucinations, that it becomes apparent exactly how rich and salty the main courses are. 
Ten hour beef shortrib is tender, gelatinous and intensely, relentlessly beefy. A punchy kimchi is a great accompaniment but it's salty, like the meat.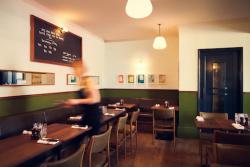 More salt comes with sides of fries, macaroni cheese and broccoli with chilli; even its kick seems subdued in the company of such lavish seasoning. The pleasantly bitter char on the outside of J's steak is the only flavour that strikes a balance with the nature of everything else brought to the table. 
Big, rich flavours are a hallmark of the Hawksmoor group and so are its interiors; Foxlow is decked out in dark wood, dark paint and dark leather. The atmosphere this scheme creates always makes for an enjoyable evening, inducing punters to lounge around in art-deco opulence while regarding their companions through the bottom of cut glass cocktail tumblers. 
The trouble for me is that we're at Foxlow for lunch and the memory of the lighter food and atmosphere of Homa haunts the dining room. It leads you to conclude that there are occasions when eating in an episode of Mad Men isn't always natural or desirable. 
The huge Georgian sash windows that used to let light flood in have been half-covered by curtains, and when seated the deep green paint is a tad domineering – the room seems smaller and darker than before. In daylight hours, the aesthetic can become oppressive rather than intimate, and it means the restaurant doesn't instinctively feel like the best environment for meals before the sun has set.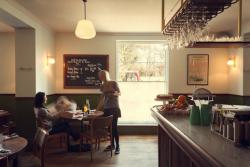 To ensure we leave as two human-sized pork scratchings, we finish by sharing a slice of salted chocolate tart – one last piece of sodium-infused excess. As I look with resignation at the salt flakes sprinkled on top, I concede that none of my quibbles will stop Foxlow from being very popular. And nor should they; the food coming out of the kitchen will make a lot of people very happy, if a little thirsty too. Just like our pudding.
Apparently, the aim was to create a'friendly neighbourhood restaurant' and in Foxlow, the well-to-do of Stoke Newington have somewhere that caters for virtually everyone. Those who turn up with sore heads or sore hearts won't care how light or airy the dining room feels, especially when the food on their plates offers this level of indulgence and comfort.