4, Market Row, Electric Lane, Brixton, London. SW9 8LD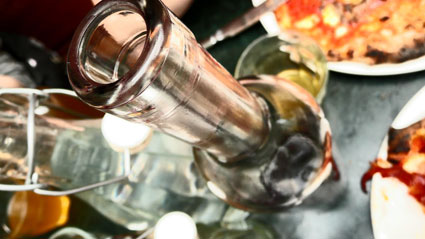 Noisily chatting in a great many accents, the long queue of hungry customers snaked towards a funk of odours. Amidst the scaly perfume of a fish counter beached in sunshine and the hippy fug of joss-sticks, a waft of heaven prevailed. They came for this: the cosy, welcoming, tempting aromas of sourdough momentarily torched at 500 degrees…
Since last April, 'Franco Manca' has risen, like and because of its pizza crusts, to become one of London's best-loved restaurants. It should be said that 'restaurant' seems a formal term for such a humble-looking pizzeria. Leading off Electric Avenue – inspiration for the Eddy Grant hit – it briefly spans two sides of Brixton's covered market. Now a colourful labyrinth, the area was amongst the first in London where current and filaments replaced gas mantles and lamplighters. That was in the 1880s, over a century and a half after the 'criscito' (or starter culture) that makes these pizzas so special was kneaded into life at an Ischian bakery.
Dressed in a lived-in T-shirt with a Pepsi logo, manager Roberto admirably pepped queue dwellers spirits with, 'it won't be long" before fending-off passing preachers hell-bent on talking Jesus. Alas, the one aflame with the most lucid rhetoric had his argument undermined when he swigged a Special Brew potion.
Roberto shrugs his shoulders and pulls a face of mock-woe when I ask how long he has worked at this quirky site, overseeing this and previous pizzerias. A baker's dozen, it transpires, 'and I came here as a young man!" He has become as famous locally, if not more so, as the Positano ex-pat, Giuseppe Mascoli, who enhanced the site last year.
From a list of just six pizzas (plus a tomato-free, 'Bianca' special) my friend and I ordered whilst still in the queue. Once seated on church pews at unexpectedly handsome, shared marble tables, the pizzas landed immediately. My tomato, chorizo and Somerset 'Mozzarella' looked like the face of Mars – a red, glistening, bumpy sphere. It was charred with dots from the authentic wood-fired oven. Underneath informally scattered toppings, the moist base was as slim as papyrus, fringed with a gently fibrous, sour lip – the 'cornicione'. My friend's was generously strewn with long, oily anchovies, juicy, tangy capers, slightly hemp-like oregano and subtle, smoked garlic.
The colour of golden poppies and cloudy, a sip of the still, homemade lemonade coaxed the yeastiness of the pizza. It smelt of verbena and tasted of barley sugar with a tacky texture and uplifting acidity. It was liike a snow-globe, I found myself shaking the bottle to catch the dregs.
Whilst others carved triangles, we tugged with cutlery – the best way of lengthening lunch against the hungry faces of the perma-queue. As our pizzas cooled, we both agreed how there is something so rightly wrong about cold pizza, especially when spiked with a splash of feisty oil.
Wine plays second fiddle to the lemonade, the choice being 'red or white', Dolcetto or Cortese. Poured from a clear, T-stoppered bottle, the Dolcetto transported me to my relatives' vineyard in Alessandria, the same province from where this one is grown. I recalled their curiously named dog, 'Camilla', munching the ripest grapes straight from the vine.
Darting from oven to table, busy staff were good-natured. When chasing what turned out to be unbeatable malty Monmouth espressos, Roberto asked who had taken the order. 'The girl with the symmetrical face," I said. As I became aware of the weirdness of my sentence, Roberto laughed, 'Ah Bella! 'Bella' for beautiful. Bella – the girl with the metric face!"
With generously laden, artisan pizzas priced between £4 and £6, caffeine at £1 and a bottle of wine at £7.50, the bill kneaded no apology. We gave them some dough and left, as stuffed as those crusts, but still tempted to re-join the queue…
Incidentally, Mascoli co-owns 'Wild Caper', a café/deli a few doors down. From there we liberated obscenely cocoa rich, dark chocolate truffles. To apologise for inadvertently creating a nickname which I fear will stick, I spared one for the metric-faced waitress…
Franco Manca follows market hours, Mon-Sat 12-5 (no bookings)
douglas blyde