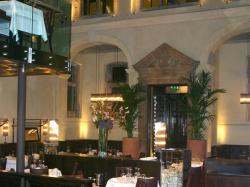 This year has brought some very good meals (Pied a Terre, Chez Bruce, Hibiscus), some average ones (Tom Aikens, Arbutus) and some damn right terrible (Umu). In the 'very good' column I can add Galvin at Windows and Bistro de Luxe, so I was very interested in seeing what the brothers had managed to do with their new venture. Would it be a restaurant too far or a City winner?
As the taxi dropped us off the doorman held open the door. I am never too sure about this part of a restaurant, I am quite capable of pushing or pulling and never too sure what purpose he serves. However entering the room you are blown away by the dining area, not much has impressed recently but this sure does. Apparently a school hall in a previous life there has clearly been a lot of money poured into it, and also a great deal of taste, things which don't often go together these days.
Most of the serving staff were recognisable from sight, having been collected from throughout the dining rooms of London, and both brothers were in the Kitchen – one on Café duty and one in the restaurant. This might be down to the fact that the restaurant that lunchtime was full of the inky critics of London all sharpening their pencils. Apart from these endangered species the room was relatively quiet, one hopes the Bankers simply haven't read about it yet and will be coming in numbers soon, after all there are still bonuses to be spent. Talking of which I was wondering, flicking through the wine list, why it was so reasonable, with no high priced wines at all. That was until I stumbled on the separate 'bankers bonus' section. However one thing I did notice, they have some super sealing device allowing you to sample a glass of a wine you might never afford by the bottle. Yes it might set you back about £60 a glass but you might never experience wine like this ever. Thoroughly recommended.
On to the starters. Escabèche of yellow fin tuna and aubergine caviar was simply fantastic. Served with something that we are still arguing over, it looked like slices of carrot, tasted of citrus and worked so well with it. Any ideas please email us in. Terrine of foie gras and fig, quince purée and brioche was consumed so quickly I didn't manage to get a taste, although my gift to the ducks is that I am only eating Pan Fried or Roasted now. Lasagne of Dorset Crab, chanterelles and chervil looked the weakest of the three but was proclaimed delicious.
Just before our main courses arrived the table opposite took delivery of the Cote de Boeuf (for 2) and I started fretting that I had made the wrong choice. The beef looked fantastic, if a little overcooked. But then again, as anyone who has eaten with me knows, I prefer my cow to be brought to the table still mooing. However worries disappeared when the Slow cooked lamb shoulder à la Basquaise and herb ravioli turned up. Literally falling off the bone every single thing was lapped up (apart from the Olives). Tagine of Squab pigeon and harissa sauce was also very good, and argument raged over which was the better dish. The Harissa providing a lovely kick, I was guilty of stealing some for my lamb. Pavé of halibut, caramelised chicory and artichokes went down well but you could sense that diner felt a little jealous of our dishes.
Having had two very good dishes I did something I very rarely do in restaurants, and ordered a dessert. Chilled chocolate fondant, Clementine marmalade was basically a posh Jaffa Cake. A posh Jaffa Cake with more than 1g of Fat admittedly but was an excellent end to what was an excellent meal. Waiting staff throughout were superb, wine advice was exemplary and overall there was nothing to complain about, even the bill was very reasonable.
The biggest recommendation is that I plan to return for dinner very soon, will be interesting to see what happens when the brothers leave the kitchen, will they be able to keep up standards? If they can, they can expect those Tire Merchants to award their riches.