I have a confession to make. It's been more than a month since I visited Gaylord Restaurant in London's seething West End. It's taken me more than a month to write anything about it. Not because I didn't enjoy it and not because I don't remember it; in fact, quite the opposite; I liked it so much that I confounded myself when it came to conveying quite how very much I liked it on paper.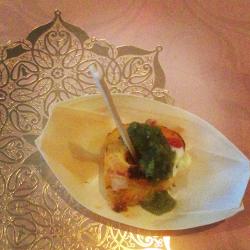 It wasn't exactly one singular thing about the night I visited Gaylord to which I could attribute this deeply-rooted admiration. While pleasing, the decor, which falls just the right side of understated indian-esque opulence with its murals, crisp table linen and vast, lit mirrors, wasn't the deciding factor.
The service, while impeccable, wasn't it either…although how often do you see waiters who genuinely take pride in their work? I remember one who waited politely and discreetly for a diner to stop chatting and gesturing before discreetly leaning in at a lull in the conversation to deliver a plate of food with ninja-like dexterity.
It was, of course, the food that did it in all its generous portions, kaleidoscope colours and intricate flavouring that seemed to borrow hints and textures from all over Asia. Gaylord Restaurant was established in 1966, is one of London's oldest Indian restaurants and specialises in Mughlai cooking — a cuisine developed in medieval kitchen for Mughal leaders who hailed from Central Asia, which explains the smattering of intercontinental inflections that intermingled with traditional street food classics and northern Indian dishes on the vast tasting menu I tried.
It started, as all good meals do, with bloody good canapes, which are not often seen on an Indian menu, but were most definitely appreciated. It began shakily for me with a Golgappa, a shot glass of greenish water with a tiny puff of pastry balanced on top. As soon as I saw it my tastebuds recoiled in horror and catapulted me back to a street food adventure my Indian friends took me on in Delhi, where I distinctly and nauseatingly recall biting into one of these pastry balls only to have it explode, filling my mouth with ice cold, bitter tamarind water. I hated it then and I hated it now. Luckily, it was quickly followed by impossibly juicy morsels of chicken in two different, individually spiced tikka coatings – MurgMalai and Zaffrani – and one of the standout dishes of the night: tiny cones of BhelPuri, mounds of puffed, spiced rice with nuggets of chilli, sweet-sharp red onion, micro herbs and torn coriander, which Indians have a seaside treat instead of ice cream. Pure genius.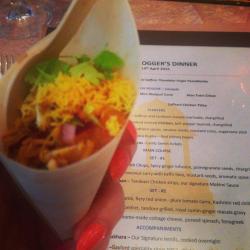 The starters swiftly followed with a parade of fat tandoori prawns, their hint of saffron cutting through the char of the tandoor oven; baby Idli, served mouth-searingly hot with gunpowder spice and rich, metallic tomato tukku mayo and Gaylord's signature dish: crispy tacos stuffed with chilli salsa, salad and soft, kebab meat served on a metal, table-sized tuk tuk. One dish has stayed with me longer than the brightly-coloured, vaguely gimmicky taco show, however: the sweetly spiced crab cakes Dakshini, which came impaled on a tiny length of sugarcane and coated in a pungent, green mix of minced curry leaves, sesame and mustard cress.
It's practically law that you can't leave the Gaylord without trying their famous butter chicken. And believe me, it's famous for all the right reasons. This seemingly simple dish of rich, tender chicken marinated in an oily slick of buttery sauce was stupidly, insanely good. And the fiery lamb shank bathed in plum tomatoes and Kashmiri red chilli that peeled and shredded from the bone wasn't too shabby either. As were the tricky-to-eat lamb cutlets Anardana in red hot scarlet glaze and the sweet, soft Palak Paneer soaked through with the flavours of creamy spinach and fenugreek. Not to mention the crispy deep fried pillow of lemon-scented bread that came alongside the creamy Dal Bukhara, or the meaty slab of Tak-a-Tak – tandoor fired pomfret – that was smothered in a cumin-ginger masala gravy.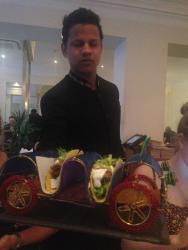 It was all I could do to stop myself weeping with joy or slipping into a food-induced trance at this point and only the addition or an almost-too-good-to-advertise Cabernet Sauvignon kept me sane enough to make it to the dessert course (it's their D.O. Valle Siete Soles Estate 2013 from central Chile, curry-wine pairing will never be the same again after you've tried it).
Things came to an end over Gulub Jamin, Gajar Halwa and Rasmalai. I've never particularly liked Indian sweets…they're too, well, sweet for my taste and I've never quite got over the toothache I suffered after working my way through a pile of alarmingly orange jalebis sticky and steaming from the deep fat fryer on that fateful Delhi trip.
Here, the syrupy jamin were tempered by a blaze of burnt rum; the halwa pudding was thick with palm sugar and toasty with sliced pistachios and the Rasmalai was fragrant with cardamom and a hint of rose water.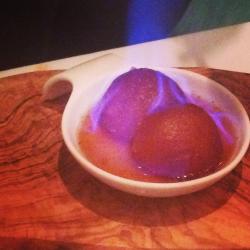 Even recounting all of this makes my mouth water. In short, really all you need to know is that the menu at Gaylord hasn't changed much since it was written in the 1940s and with good reason. When it's stacked with wall-to-wall classics and innovative bites like this, why should it and, more importantly, why haven't you tried it yet?