271 Portobello Road, Notting Hill, London, W11 1LR goodeandwright.co.uk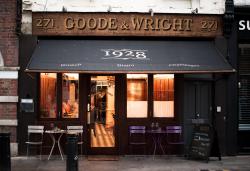 Stepping into this shoebox-sized 'Anglo Franco' bistro is like travelling back in time 70 years to an era of post-war libération; it has the bohemian air of a secret, oak panelled salon, artists in residence huddled in a Gauloises haze.
Goode & Wright is owned and run by two men. Finlay, the Scots chef who single handedly manages the open kitchen and Jimmy, the charismatic, ponytailed French maitre'd. I never actually got to the bottom of who was Goode and who was Wright. Neither sounds particularly Gaelic. It occurred to me later that maybe the restaurant isn't named after the proprietors at all and is more a bold statement of intent.
Having eaten there I can testify that the food is indeed good and their recipe for restaurant management seems to be working out right. Two people serving 40-50 covers every night without breaking a sweat is quite something and certainly a clever money-saving tactic for a start-up operation.
Jimmy offers a warm welcome and has an easy rapport with all his customers, some of whom are already on first name terms after just four months in business. He declares that we will try a 'little bit of everything' and are only required to select our main courses, of which there are just four, with two plat du jour. A wine list doesn't appear, instead he rattles off his favourite reds and whites to my friend H and somehow you just know that whatever turns up will be great.
After some complimentary olives and cornichons a wooden board arrives loaded with bright summer colour and fresh market produce. There's saucisson sec, a delicate crab salad, bulbous dressed radish, toasts loaded with beetroot and feta, a sensational griddled shrimp salad and half a peach. For the time it takes to attack all corners your spirit is temporarily transported to a sun-soaked terrace under the vines of a Provençal mas…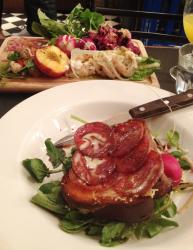 That pleasure is only exacerbated by the second plate, a house speciality: 'Duck egg in a basket with chorizo and truffle honey'. This is basically a take on eggy bread except a million times better. A thick slice of honeyed brioche is fried crisp and golden, the egg still runny in the middle, and layered on top with crisp slices of gently spiced sausage. It is seven pounds and fifty pence worth of happiness on a plate.
Next I went traditional, opting for bavette steak with the accompaniment a la mode of roast marrowbones. Bavette is a cheaper cut of beef from the flank or abdominal area that is popular in France flashed quickly on the grill. In Britain we know it as skirt and tend to braise the bejesus out of it as the flavour is quite strong and it does benefit from slow tenderisation. Mine definitely had a whiff of the abattoir about it which was off-putting and Jimmy conceded he was looking to upgrade to the more familiar rump or ribeye in the near future. The frites were grade A though.
H's smoked haddock arrived broken and layered with poached eggs in a sundae dish, like a bizarre fishy trifle. She was then given strict instructions on how to mash it together before spreading over the supplied toasted bread. Like many things on the menu, this is technically brunch and not suited to everyone at eight o'clock at night, and after the eggy bready starter this was a toast too far.
Following a light comedy interlude when a man walked into a cupboard door and ricocheted off a female customer's face, Jimmy presented us with another wooden board, this time laden with pretty sweet things and further instructions on which to eat first so as not to ruin the effect of the latter.
A pot of crème brûlée with sugar crunch lid was absolutely faultless; the freestanding chocolate fondant oozed loveliness and was helped on its way by giant sides of strawberries with quenelles of yellow clotted cream. The only misfit was a take on Eton Mess that seemed to substitute meringue with Willy Wonka's popping candy. As our tongues fizzed away, the assault on the taste buds was compounded with the rich, tangy lemon posset that overpowered the raspberries and cream and kind of did you in after a bit. The lesson here would be don't mess with Eton Mess, it's perfect as it is!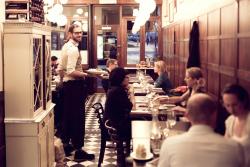 All in this was a jolly good feed with deft service and lots of personality in evidence from both kitchen and front of house. The dual nationality clientele seemed to be full of joie de vivre too – especially after the face bouncing escapade – and the whole house had a nice, neighbourly feel to it. So much for strained Anglo-French relations.