101 Buckingham Palace Road
 London
SW1W 0SJ www.grandimperiallondon.com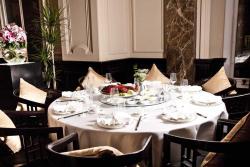 Railway stations always used to be places of grandeur. The St Pancras hotel has done a lot to bring back those good old days, but now London has the Grand Imperial. Walking through an unassuming door from Victoria station into the high ceilinged interior of this aptly restaurant is a magical, Narnia like experience
The Grand Imperial has recently won two rosettes and was finalist in Tsingtao Legacy of Taste awards for Best UK Chinese restaurant, so I knew the food was likely to be excellent. What I hadn't expected was the sheer opulence of the place and the hushed atmosphere that hit me like a blast of cold air after the frenetic activity of the station.
We arrive for a weekday supper, but the Grand Imperial offers a whole range of eating and drinking possibilities suitable for almost any time of the week. My dining companion, J, had visited just a couple of days before for an afternoon tea with colleagues. As well as the a la carte menu, dim sum is on offer seven days a week, with an express weekday dim sum menu (just £20 for two) perfect for a light lunch while waiting for a train.
We are seated underneath a huge, dripping chandelier at a black lacquered table covered with a satin tablecloth. The room is dotted with hulking brown marbled pillars, decorative orchids and bonsai trees, with original artwork and calligraphy hanging on the walls.
The Grand Imperial is Chef Rand Cheung's first venture in London and he offers a welcome contemporary take on classic dishes without trying too hard. The pared down menu of Hong Kong Cantonese cuisine is easy to order from and the wine list is easy to negotiate too, with white wines, for example, helpfully divided into 'aromatic', 'crisp' or 'savoury', although I imagine this could annoy a wine connoisseur.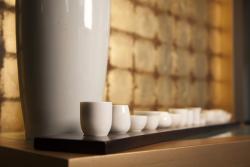 J and I shared a number of superb dishes. Marinated baby octopus in sesame peanut sauce was a delightful combination prettily served with orange and a whole raspberry in the middle. The duck salad melted suitably in the mouth and came with an innovative sprinkling of pomegranate alongside sticks of cucumber and shredded cabbage. Sautéed chicken with sweet basil, spring onion and chilli was more classic, but was no less perfect in its balance of flavours, and the sweet, melting baked black cod with pepper honey sauce a definite highlight.
It was altogether a soothing experience, aided partly by the spaciously spaced tables – a real rarity in London restaurants, the calming interior with Feng-shui design and our sweet waiter, Ming. 'People may think its pricey for a Chinese at a railway station' J commented, 'but this is no ordinary Chinese.'
We finished with a buttery milk oolong and delicately flavoured San Hao Pu-Er tea from the impressive tea menu. It was only when I got home (quickly, as we were already at the station) that I kicked myself. I had forgotten to sample one of the raved about boba cocktails, a version of bubble tea that pop in your mouth. I had my eye on a LingLing, a sake, lychee and egg white created in honour of the restaurant's dim sum chef. I would just have to go back.