Vowels Ln, East Grinstead, West Hoathly, West Sussex RH19 4LJ www.gravetyemanor.co.uk
Nick goes to Sunday worship, a Michelin starred lunch in a manor house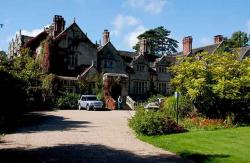 Sunday lunch away from home, but what's it to be? A classic pub roast of stringy meat, steamed vegetables and deep fried'roast' potatoes, all doing the backstroke in a lake of watery gravy?
Or how about a carvery where you can see how the other half eat; windows steamed up and dripping with condensation while people wearing ugly caps fill their plates ten stories high with vegetables, ignoring their kids as they scream and clamber over the plastic furniture?
Well having had my fill of both over the years, I was happy to head off last Sunday to Gravetye Manor near East Grinstead a mere sixty minutes from home by car.
You do need a car; not least for the pleasure of having the electric gates creep open for you as they sense your approach. Park away from the manor house, whose ancient chimneys can be seen peeking over the trees, and crunch up the drive; the crunch of gravel being the sonic statement of any good English home.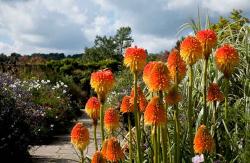 It is a quite beautiful house, built in 1598 and for many years the home of William Robinson regarded as one of the greatest gardeners of all time. It became a hotel in 1958, struggled to survive structurally and in 2010 came under new owners who have reversed the decline and brought the hotel and gardens back to life and won numerous awards as hotel.
And the food is good, only last week in fact Head Chef George Blogg won a Michelin Star, so we had high hopes even for Sunday lunch.
The house inside is gorgeous, a riot of wood panels and open fires and still very much the sense that it is someone's home and not a hotel. Staff flit around immaculately turned out and it's very welcoming, very Michelin. We first sat outside in unusually blazing September sunshine for drinks and nibbles, the garden still in brilliant bloom and begging to be explored later, before heading in.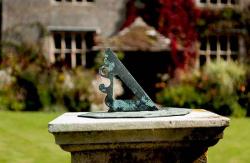 The dining room is formal in tone but not oppressively so; in a corner a rather posh woman d'un certain age, was berating her elderly husband in the ringing tones of someone used to command. We tuned her out.
Sunday lunch is £45 a head, the choice is compact and the dishes are traditionally rooted – beef, pork, lamb, fish or vegetarian – but raised up, as one might expect, and the vegetables nearly all come from the massive walled kitchen garden, a pleasure to stroll around.
My starter of smoked salmon mousse with marinated beetroots, citrus and watercress was, and I mean this in a good way, like the best taramasalata. The glossy sheen of the mousse anticipated the light creamy texture and deep smokiness, which was then cut by dabs of what I think, was grapefruit. The vari-coloured beetroots apparent solidity was deceptive, as each sweetly gave to the slightest knife pressure. The presentation was delightful.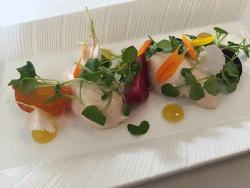 P went for a ham hock ballotine, the meat falling apart perfectly and packed tight with flavour, all counterpointed by delicate acidity from piccalilli and texturally contrasted by sourdough croutons. It may not be quite the done thing to scrape your plate in this kind of restaurant, but P did it anyway while I surreptitiously wiped every last bit of my mousse up with my bread. Two class acts, and the starters were good too. Boom Boom.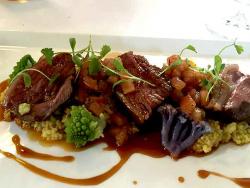 Lamb was main for P, roast chump of South Down lamb to be precise, the meat coyly blushing pink just as it should always be and on a bed of couscous with mixed cauliflowers and heritage tomatoes. I tried a bit and was impressed, the couscous with a real North African edge from sweet fruits and the crunch of the caulis and the acidic juice of the tomatoes all combining to create a satisfying plate that also felt paradoxically light and healthy.
If I had one complaint about my braised and rolled belly of Old Spot, it would be the crackling. It came looking for all the world like the last bit of prawn cracker in the bag and tasted of not very much. Crackling for me has to be a teeth-shattering piece of flesh with a gush of fat inside.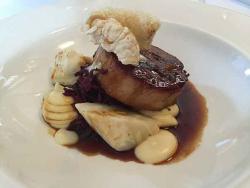 That aside the pork was excellent, slow cooked to unctuous perfection and ably supported by a decadently creamy'mash' and cubes of tender celeriac with its aniseed kiss. Red cabbage made a good partner, as it always does, but the red wine jus was a tad over salty. I like salt, rather too much according to my last medical, but this went over my threshold. Ok so two complaints then, but really rather minor ones.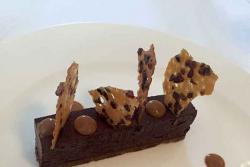 Desserts were very pretty, a Guanaja chocolate parvee with roasted chicory root ice cream (really?) and cocoa nib crisps. The ice cream was interesting, chicory used to often be used as ersatz coffee in wartime and you can see why. The chocolate was as rich as I always hoped that I'd be one day, each spoonful rather naughty and sinful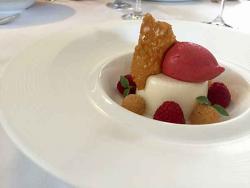 Yoghurt and buttermilk pannacotta with rasberry sorbet and ginger tuile was another winner visually and also for flavour, sharp and sweet simultaneously like a probing interviewer.
We wandered the hotel a bit, admired a lovely bedroom that was open to view and strolled in the gorgeous garden and over the croquet court all the while taking in the views of East Sussex and imagining that we were the lucky owners. Then regretfully drove home.
Gravetye Manor is a jewel of a place, perfect for a special Sunday lunch with very fine cooking delivered by excellent friendly staff who don't intimidate but welcome you with genuine warmth.