25 Church Street, Birmingham, West Midlands B3 2NR
hotelduvin.com/locations/birmingham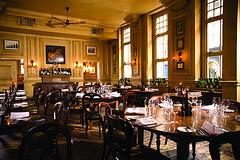 Some people get it, some people don't. I had to explain this flittering wibble to the mrs, who used to be the girlfriend, but is now the fiancee, so I guess technically not the mrs, but you know what I mean. We'd only recently got engaged when we decided to pop back to mein Faterland of Birmingham. In the weeks leading up to said trip, I'd managed to rekindle her childhood love of wrestling – some people get it, some people don't. So we had two nights in the Midlands – one in a Holiday Inn in Solihull, the other at Hotel du Vin in Birmingham.
Go on – how much for a one night stay at the Holiday Inn? I got it on one of those final moments discounts websites. No? Eighty-two quid. Which, to be honest, I'm not totally convinced is a great deal. Ok, we had stuff to do in the day and the evening, outside of the hotel, but for the rather hefty price, the room was crap. Girl at the front desk, great. Room size, bad. Room quality, very poor. Food in the hotel, don't bother. Except maybe the pizza.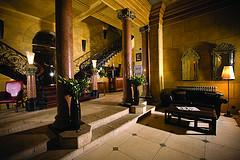 Now – in contrast, Hotel du Vin is impeccable. Girl at the front desk, great. Guy at the front desk, great. Assistant Manager and General Manager saying hello, hey, top banana. Pretty nice welcome in all fairness – and no queues of impatient single-party businessmen holding papers and checking watches. The lift was out but when you've got big grand wooden staircases it's kinda rewarding to troop up them. The hotel lads can carry the cases though. Not going full out on this one. Should have had the lift working. Still, nice stairs. Only a couple of floors.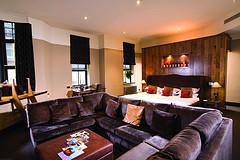 We arrived at Penfolds, which, to be fair, is pretty damn impressive. The mrs/gf/fiancee/main squeeze and I had played a game of what properties to buy and where; a beach house in Malibu or a studio apartment in Paris, for example. Penfolds is pretty much exactly the type of studio apartment in Paris that we'd imagined. There's no kitchen in there, don't get ahead of yourself, but it's one giant enormous box that you could practice gymnastics in and houses the biggest bed I've ever slept in, perfectly suitable for the great Giganska Nagrada – which between you and me is Bulgarian for "Gigantic Prize" and is also my wrestling alter ago.
There's a new seasonal menu just started at Hotel du Vin and at first glance I was admittedly a little underwhelmed – purely because the standard menu reads so appetisingly; it's got at least three to four dishes you'd have a hard time deciding over and they took my fancy immediately. I suppose that's partly because we're all a little too spoilt for choice these days. I've fancied trying a high street chain called'Tossed' for ages, until having a realisation that all the high-street chains are probably, in essence, serving exactly the same produce in different packaging. Now, I'm not saying Tossed is the same, but if I go in and find anything to do with wasabi, teriyaki, pulled meat, edamame or pommegranete then I'm pretty sure I'm on to something.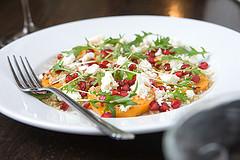 Thinking logically – if everyone these days serves the same dishes, then ultimately the factors of the quality of ingredients, the quality of the cooking and the value for money come in to play. For example, the wasabi at Wasabi is better than the wasabi at Itsu…purely my opinion…or paying more for a coffee at anywhere other than Starbucks not only gives you a feeling of extra value but also the satisfaction of not adding to the loophole lovers gold pit. Now – this extra care, attention, focus or general good vibes towards going the extra mile, (ugh, cliches), is pretty evident in the dishes from Hotel du Vin. Take the Summer Squash Salad, for example, with quinoa, pomegranate and barrel aged feta. This salad could probably be found in most health-orientated establishments, but on the odd occasion you may notice it's the recipe rather than the ingredients that take the priority. Not in this case, you can taste the quality and it's a very well-balanced, light and powerful dish.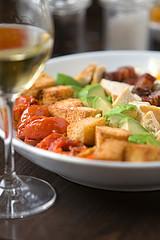 The Bayonne ham with celeriac remoulade is also good quality. A deep flavour with a slightly nuttiness in the back of the mouth that screams richness in flavour over the packaged supermarket ham alternatives. The Pint of Prawns dish is on the rise currently with plenty of venues offering their take, using a variety of prawn sizes. Hotel du Vin gives you eight decent sized prawns, on ice, shells on, with a spicy cocktail dip. I like the shells on because once peeled a prawn will gradually lose it's plump juiciness. Three cracking starters that are worth going for simply for the quality of the ingredients.
The skill of the chef's cooking skills shines through with the Normandy Chicken Cob Salad. It's a main course. Admittedly, it's a salad, which may put off the odd one or two because, well, salad as a main course? I'm ok with that if I've not polished it off within five minutes but usually, on the whole, the salad main course offerings in most places fails to kill the hunger. And I'm a big dude. But – I could not finish the salad and I'm not exaggerating in the slightest. This salad comprises roast chicken, roquefort cheese, avocado, sun blushed tomatoes, brioche croutons, soft boiled eggs and roast pancetta. A proper, proper man salad. The size is extraordinary and well worth a bash at conquering. Giant cubes of moist, succulent chicken, a salty punch of roquefort cheese, creamy avocado to keep the mouthfuls lubricated, a sharp grease-cutting burst of sun blushed tomatoes, extra savoury crunches from the croutons, a lovely alternative aroma from the soft boiled eggs and you might as well chuck in the good quality pancetta to raise the excitement.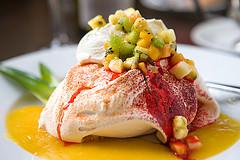 Portion size focus continues with dessert if you decide to order the Tropical Fruit Pavlova. Simply enormous and lovely, rich and fresh fruits and coulis to loosen up that crumbly meringue mountain that dominates the plate. Or, if you're a bit on the full side, a tiny bit of cheese is never a bad idea. Being Hotel du Vin, they've got a cracking offering and knowledgeable staff that get your thoughts flowing with every description. Obviously the wines go down very well, after all, it is Hotel du Vin, clue's in the name. Plus it's an intimate setting in The Bistro. It's made our weekend and left us questioning why we even bothered to go "cheap" with Holiday Inn on the first night. But if eighty two pounds can be considered a reasonable rate for a "cheaper" chain of hotels, then you may as well push the boat out for the better experience at a place like Hotel du Vin. You want to be treated well as a guest, rather than as a number. You want good food. You want extra bits inside the hotel just in case, like a spa, for example, and there is one in Hotel du Vin. You want a good time and whilst cheaper alternatives won't provide you with this, Hotel du Vin does. Some people get it, some people don't. Go for the new seasonal menu, stay for the respect.