I'd go a long way for decent Spanish food, even as far as Canary Wharf. This is why I found myself dwarfed by the glistening towers of avarice last Friday lunchtime. Twice I was nearly knocked down as I crossed roads because I was too busy looking up. Both times the cars were supercars, a Maserati and a Bentley, each driven by some whey faced poltroon with a sneer on his face. I have to say, I don't like it at Canary Wharf.
Still I don't have to work there, all I have to do is get to the new Iberica for 1pm, not all that easy as it's a something of a maze around there. It's rather like early video games where every doorway seems to lead to a near identical set of corridors and spaces, you think 'have I been here already?' and try a different route.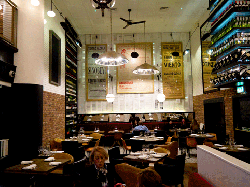 In Cabot Square and rather discreetly fronted, the new Iberica Canary Wharf gives good Gosh when you get inside. A rack of reclining jamon legs next to the door make it clear you aren't in a clothes shop, as it once was, and the space surges up ahead of you. A nice long bar to one side, space centre and left, and above two galleried floors for overspill.
The kitchen is on display and I can see head chef Cesar Garcia beavering away, one of the sunniest chefs in London he seems extra happy today with plenty of people at tables and every sign of success just one week into opening.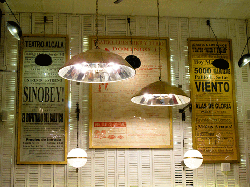 Unlike Iberica Marylebone, designer Lazaro Rosa Violan has gone for a real retro Spanish look here with tiled floors, faux shutters and even a big old bull's head glowering down from on high. It could be paella pastiche, but it's not. The vibe is cool and knowing and it does, for me at least, have the feel of an old tapas bar in Madrid like it's been here for years.
The food resembles Iberica Marylebone; the menu is the same but with more ham. We have a plate of three types, from sweet to salty and to be eaten in that order. The sweet, fatty, first one is the best for me having all the attributes of jamon I love with fat that dissolves on the lips.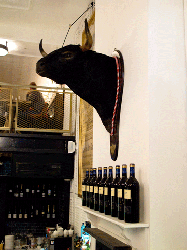 The croquetas are almost as good as Marylebone, which is to say very good, just a little bit less perfect, no doubt due to the kitchens still sharpening up. Creamy inside, crunchy outside and flecked with jamon scraps just as they should be they cry out for a crisp sherry to clear the palate after each bite.
I've had Iberica's remarkable Gazpacho of red berries, beetroot and anchovy before and it's still stand-out; the balance of the sweet and the savoury is perfect, a real appetite inducer. More delicate is Pan fried scallops, cauliflower puree, escabeche, fennel and apple. I like the contrast of apple and fennel, the acidity versus the liquorice, the scallops are perfect but the dish is almost too good, more a restaurant starter than a light bite.
Things come down to earth with the next dish, 'Sailor stew' with clams and battered potatoes "a la importancia". This is simple and, to use a rotten but apt word, hearty. The clams are sea-sweet and the broth has been thickened by the potato particles. The mini spud fritters have just enough of a waterproof fried egg coat to keep their heads above water and be a texture in their own right.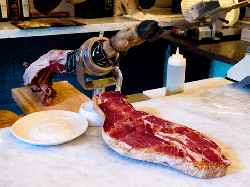 Burgers and I do not make friends easy, too big, too monotextural, too boring and that's just me. That said, I do like a mini-burger, as I am not then obliged to eat a quarter pound of cow. Iberica do a mini burger with secreto pork loin and piparras peppers and it's just right, I particularly like the pepper, which replaces the vital gherkin. It has a tiny bit of fire, a hint of vinegar and the whole thing was gone in two bites – perfect
And so was dessert, "La tarta de la abuela" an interpretation of a traditional chocolate, vanilla and biscuit cake all done in a glass jar. The layers made sense when you dove your spoon down to the bottom and came up laden like a happy dredger.
All the Iberica food is available as takeaway, and so are the wines. I'm not sure if the majority of people at the Wharf deserve such niceness, but Iberica deserve to do well out of them. Greed can be good, if it involves food and not money.