Nick heads down the King's Road to find that Scott Hallsworth has done it again with his masterly way with 'Asian' cuisine

It seems a long way from Sloane Square to Joe's Oriental Diner when you're walking and a bit lardy, so we stopped halfway for a pint in a pub where the men were wearing red trousers. I know I grumble about all the clones in the East End but the tribes down the King's Road have their own sartorial hideousness too. Red trousers are the sign of the cad and the bounder, in my opinion.
Anyway, suitably refreshed we ambled further west and finally found Joe's Oriental Diner, a small noisy (in a good way) place with a gritty stripped back decor that suggests genuine lack of investment rather than designer grunge. I suspect however it's actually very clever, sold as'edgy' and probably cost a bit.
This used to be Kurobuta, Scott Hallsworth's brilliant restaurant that moved to a larger location in Marylebone. That's a restaurant so good I've been back more than once, something I rarely do given how many new places there always are queuing up to be tried in London.
Scott has opened a second Kurobuta a few hundred yards past Joe's Diner, presently concealed under some scaffolding, but seeing as Joe's was rammed we took the door person's advice and nipped over to Kurobuta for a cocktail and a few small plates: Nasu Salmon kimchee bites, spicy tuna maki, artichoke chopsticks and yellowtail kizami, rolled and on teppo gushi. All delicious, especially the'chopsticks' dunked in a truffley ponzu dip
Returning to Joe's thirty minutes later we squeezed down the stairs and slotted ourselves into a small rough wood table with a view of the kitchen, a real galley of a kitchen too with no windows and hot, hot ovens and worktops. The chefs weren't tattooed or bearded or cool looking, they just had the air of stone professionals as they moved purposefully around each other with no fuss and seemingly effortless ability to meet the orders flowing in. It was impressive, the Joe's Oriental Diner image of a shack restaurant on some South East Asian quayside is fun but underneath the place is clearly a tight ship.
The menu has small plates and bigger dishes all suitable for sharing and we agreed that we had to try Thai pork sausages, which turned out to be seriously hot with chilli and quite superb in flavour. I entertained J as he sweated by picking up the peanuts that came with the sliced sausage using my chopsticks in a skilful demonstration that would have had the Karate Kid gobsmacked.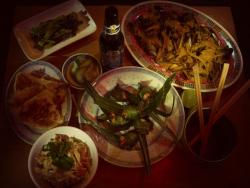 Crab Rangoon; creamy fluffy white crab meat fried in wonton skins with a sweet chilli dip, was a winner with the wonton skins nicely friable and the crab's own flavour not masked, while the Pandan shrimp wraps; little knots of pandan leaf concealing a perfect prawn inside, were remarkable flavour bombs with the perfume of the pandan gently infused. You cannot, by the way, eat pandan leaves. Trust me, I tried.
I always like a beef rendang but could it be improved by being made from beef short rib and then banged into a bun? Yes it could, the rich complexity of the coconut beef semi-absorbed by the Taiwanese bao (steamed buns) to make something classically street foody but not drearily'filthy'. More please.
Pork belly is always a winner round my way, especially done the eastern way where the gelatinous nature becomes the catalyst for the flavours all around. BBQ pork belly with chilli jam was just great and like all the dishes presented a lot more smartly than the decor would suggest.
We washed it all down with draught Sun Lik beer, apparently the most popular draught beer in China (brewed here by Shepherd Neame actually, so it won't be on any hipsters lips) and wandered back up the stairs contented and masking small chilli eructations.
Basically Scott can do no wrong in my book, his tasty food creates its own rules about authenticity and delivers fun, frivolity and fabulous flavours. Joe's is another winner.
Read about Kurobuta Maryelebone