Juniper Dining, 100 Highbury Park, London, N5 2XE www.juniperdining.co.uk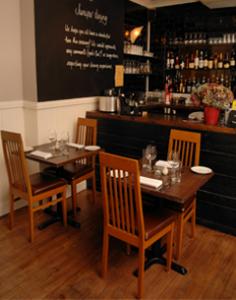 What a sacrifice! Despite Yorkshire-born chef Rob Wilkinson being a Burnley supporter, he's set up his restaurant Juniper in Highbury to please his Arsenal-loving wife. Having worked through a clutch of Manchester restaurants before a stint at Boisdale Bishopsgate, Wilkinson now heads Juniper's kitchen while his father-in-law does the accounts – a true family-run restaurant.
I'd narrowly dodged the wafts of post-work joggers in the vicinity before finding Juniper in its pared-back grey and cream glory. This is yummy mummy, Mayor Boris and artisan deli territory, as well as the gunners' stomping ground. And it is, apparently, doing a booming trade to the N5 locals although it was quieter this Tuesday evening. Yet even if packed, there is a decent space between tables rarely seen in smaller gaffes which would make the place ideal for intimate dates or gossipy catch-ups. Or noisy (as noisy as Highbury posh kids are) families.
After a creamy crab bisque – not too fishy – L started with Morecambe bay potted shrimps with toast, watercress and lemon. These had a good head of butter and proved a gentle and flavoursome dish. My wild venison and juniper carpaccio with rocket and parmesan salad, capers and white truffle had taken the juniper marinade well – almost too well though. Wilkinson's painstaking marinade sadly overpowered the meat which was such a shame as it had been prepared beautifully – ruby with the skinniest lilac rim where braised.
But never mind, we had L's Cornish fisherman's stew with roast garlic, tomatoes, saffron and thyme to look forward to. It did look quite spectacular. The fish in the dish were wild halibut, smoked haddock, seabass, mussels, clams, tiger prawns and Cornish squid. Wilkinson is a fish fan and sources it daily in small quantities. What did L say? ' The fish stew was very nice – quite a mild taste but that allowed me to appreciate the perfectly cooked fish".
I'd had seared, diver-caught Scottish scallops with saffron and chive mash, Stornaway black pudding, sauce vierge, rocket and watercress salad. This dish was generous in its serving and the scallops were cooked well. But I like my black pudding gritty and aggressive, I want to arm wrestle it to the ground – probably because I'm bigger than it usually. This, however, was a mild little cinnamony number and it needed bigger muscles to stand up to the softness of the scallops. Similarly, the sauce needed more punch. Wilkinson has plans to make his own black pudding and my advice would be – for what it's worth – to give it tough love. The rest though, was great if unchallenging. And that's what we felt most of the dishes were – excellent for a good quality local but no flavour too risqué for the genteel clientele.
Finally we had a Malteaser iced parfait with chocolate and Grand Marnier sauce, with homemade honeycomb and strawberries. L loved this – 'a thing of genius" she exclaimed. While Maltesers remain one of my staples from childhood, I wasn't sure about the retro-bashing they got, I'm a purist with old favourites. But it tasted good, probably a hit with children. Perhaps getting his paean to Burnley in, Wilkinson had included Lancashires on his cheeseboard. But I found these slightly uninspiring – a mix with some stronger, more unusual cheeses would have been exciting. Perhaps this is what the regulars want though. And that's what this place is mainly for, the regulars, which in a world of gastro-empires and transient footfall, is no bad thing at all.