Kasturi Indian Gourmet Restaurant 35-37 Shandwick Place, Edinburgh, EH2 4RG www.kasturi-ed.co.uk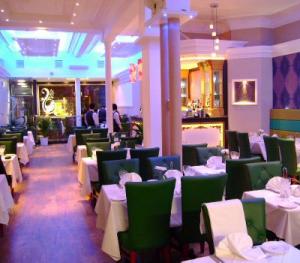 Probably the hardest thing about 'eating indian' is choosing what to have. The menu is rarely short and with all those aromatics invading every dish, smacks of irresistible deliciousness. And, somehow you just know your eyes are going to be bigger than your stomach! If you have a favourite restaurant which you visit regularly, confusion rarely intervenes as you have probably been salivating all day and spend scant time looking at the menu before ordering. But, when there's a new kid on the block it all becomes a little more tricky. Kasturi is the new kid on the block in this case, having opened a mere three months ago. Of course you could just opt for your 'usual' and determine whether it compares but there's nothing like a bit of adventure! This is where an enthusiastic and knowledgeable staff can make or break the experience.
In this instance, we threw ourselves on the mercy of the staff and they didn't disappoint. While we perused the menu and sipped at a perfectly chilled, crisp Chilean Tierra del Rey Sauvignon Blanc, the house white (£11.95), Jack the manager was eager to embellish on the already-comprehensive dish descriptions and won us over with his recommendations. A plate of light, crisp poppadoms appeared within minutes with a particularly refreshing riota and mint sauce, a mango chutney that had none of that sticky, straight-from-the-bottle taste and instead of those overly-vinegary, artificially red onions, a generous dish of finely sliced fresh spring onions, peppers and chillies. A delightful combo.
Whilst the restaurant was reasonably quiet (lunchtime, just after Christmas and on the back of the worst snow and ice Edinburgh has seen in years!) the atmosphere and the background music lent an air of calm. I have to mention the very crisp, white tablecloths and napkins, the under-stated but tasteful small vases of flowers on every table (also white) and the sparkling crystal wine and water glasses. Bright white crockery with the subtle Kasturi logo and a decent amount of space on every table (so often a drama when there are a number of dishes competing for space) completed the package.
We had three starters between the two of us – the Aubergine Pakura which was light, crisp and served with a tangy tamarind-infused dipping sauce (the chef threw in a couple of courgettes too), the Lamb Boti Kebab; tender, bite-sized, dry-spiced and very moreish and the Fish Amritsury, cat fish marinated with garlic, ginger, green herbs and coriander which was a first but won't be a last. All three were served with a fresh, mixed salad on the side which was much appreciated. All too often the salad is merely a limp garnish and not worth the fork-to-mouth effort. Hot and spicy should always be accompanied by a cool and refreshing palate experience.
The Tandoori Salmon Tikka with the chef's special potato and salad arrived along with the Chicken Pathia, a portion of boiled rice, a plain Naan and a portion of Saag Aloo – all were beautifully presented. The fish was moist, the Masala sauce was creamy, lightly spiced and tomatoey, the chef's potatoes were hot, hot, hot but delicious. The aroma from the Chicken Pathia was tantalising and the first bite got a '10' from both of us. Moist morsels of chicken? Yes! Sweet, sour and spicy sauce? Yes! I am a sucker for spinach and when it's all wilted and sharing a bed with a spiced, fluffy potato or two I am a happy bunny! The boiled rice was light and did a sterling job of soaking up the all-important juices and the Naan was a triumph. Cut into neat quarters and paper-thin, it was served in a basket clothed in a white napkin. No sign of that thick blanket of stodge that you know will keep you up all night with indigestion here!
I think what really made the Kasturi experience one to be repeated was the fact that whilst we hoovered our way through a fair amount of food (well-known for our love of food and the refusal to say 'no" us two!) we polished the above off and didn't feel in any way stuffed as can so often be the case when hefty helpings of cream, sweet milks and ghee are involved in the preparation of many of our UK/Indian favourites. Having said that, the manager insisted we have a taste of the Kulfi Ice Cream before we left – this may have been our undoing, but what an undoing! My dining companion is famous in these parts for her exceptionally good Scottish tablet and when she exclaimed that it was just like a frozen version of same, I had to agree. A delectably sweet, condensed-milky, unctuous finish to a great lunch but perhaps one or two spoonfuls too many. Fortunately, we had a brisk walk in the winter sunshine before getting the train so managed to rationalise the extravagance.
NOTE FROM THE NUTRITIONIST – that's me!
The staff at Kasturi are happy to run you through not only the ingredients but also exactly how each dish is prepared so if you are looking for a deliciously healthy meal that won't pile on the pounds just ask. A small portion of plain boiled rice, naan or flatbread won't do too much damage at lunchtime when you have a busy afternoon and/or evening ahead but body swerve them if you are out for dinner – starchy carbohydrates leave you feeling bloated at bedtime (same applies to the dishes with cheese).
Avoid the deep-fried starters and opt for the kebabs or soup instead and for mains go for the vegetable, fish and chicken dishes cooked in the tandoori oven. Where there is a sauce involved, ask for it to be omitted or served in a separate dish (you will eat a lot less that way) and go for vegetables, salads, dhal and riota as side dishes.