48 Queensway London W2 3RY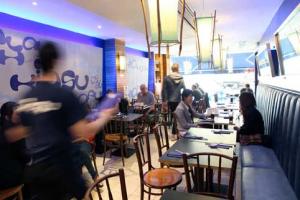 'Our chefs are ANGRY chefs," declares Elizabeth Seah of Kiasu with a big, irreverent smile on her face. 'They're really angry. Cooking at Kiasu means staying as faithful to the original dishes as possible, down to the very last detail – and that takes hard work."
At this point in the ridiculously enormous meal, she gestures conspiratorially towards the rapidly disappearing portion of Chicken Malay Satay, and its accompanying bowl of rich, jewel red peanut gravy, 'That peanut sauce, for example, starts with slow roasting peanuts, which are then hand-crushed, and then fried with chilli paste – and not just fried, mind you, but fried until the chilli paste separates from the oil, and then reincorporates itself back again – and then there's making sure the balance is just right for all the other ingredients and spices, like tamarind, garlic, ginger, palm sugar, etc. And then after one day, they throw it out and do it all over again, because all our sauces are prepared fresh every two days." A sage nod; a cheeky grin. 'Yes, very angry chefs."
As a fellow Singaporean, and a hungry one who has been sorely missing the authentic flavours of home for quite a while now, it takes every bit of decorum I have to prevent myself from taking a flying leap across the table and planting a big, wet, juicy, peanut-flavoured smackeroo right on Elizabeth's lips. Forget the well-meaning but misguided attempts at East Asian food with peanut butter and sweet chilli jam (shudder) and recipes brought back from a 2-day cookery course halfway through a luxury yoga retreat in Bali. This is Straits cooking as it ought to be!
And this is where things get tricky, for what exactly is 'Straits food" anyway? Over the past decade, Chinese, Vietnamese and Thai cuisine have established themselves as such familiar flavours in everyday eating, that what were once considered specialist ingredients like lemongrass, rice wine and fish sauce are now easily found everywhere. We've each got our own personal favourite dishes, and are all privy to the fiddly rituals involved in consuming fresh rice rolls and crispy duck pancakes, for instance. Straits food has now entered this equation like a B-side ambiguity.
To put it as simply and quickly as possible, straits food derives its very distinct flavours from the Straits of Malacca, and its nearby neighbours, like Malaysia, Indonesia and Singapore. And that summary in itself contains such an explosion of diverse cultures and influences that it's impossible to pinpoint any one particular originating point – suffice to say that, if a Chinese Peranakan bibi, a Hokkien street hawker and a Malaysian makcik face off in a vicious kampong courtyard cook-off, this is what it would probably taste like. Heaven.
This is when Elizabeth calls forth a battery of generously loaded platters, and I rejoice in the downright obscurity of such hawker street food favourites as Or Luak, a delightfully soft and fluffy oyster and egg omelette with an accompanying sambal chilli sauce (my favourite!), and Chye Tow Kueh, steamed radish and rice cake pieces stir fried with eggs, bean sprouts and chilli (my dining companion's favourite!). Vinegary and spicy Bak Chor Mee (minced meat noodles) and suitably wok-smoky Char Kway Teow (stir-fried rice noodles) are wonderfully complemented by succulent Chicken Malay Satay skewers, which are up there on the list of Kiasu's bestseller list along with the Hainanese Chicken Rice, Fried Calamari and Lemon Grass Beef. The intoxicating mix of rich and hot and fragrant and piquant is heady!
Up next is an ingenious rendition of the classic Singapore Chilli crab, presented in a fuss-free battered soft shell crab version, although the original dish is also available for purists. The thick, rich, eggy, chilli crab goop is to be mopped up with the mantou – sweet, pillowy soft rolls with a deliciously crisp deep fried shell. As one of their star dishes, it was unfortunately a whisker away from home-style perfection because of a batch of less-than-ideal chillies.
Being able to procure the right ingredients consistently, according to Elizabeth, is one of Kiasu's main battles – and one they have chosen to fight head-on. 'There are so many ingredients we can't find here, or else, they are ever so slightly different," she explains, 'But it makes a huge difference." And this means importing ingredients like Ikan Bilis for the Nasi Lemak ('the anchovies here are slightly bigger and turn black and bitter when deep-fried"), dried shrimp and laksa leaves for the Laksa soup base, and screw pine and pandan leaves for the Chicken Rice.
Kiasu's owner Ronald Lim, who also runs Cantonese restaurant Kam Tong and Oriental City Supermarket, is said to be a hugely enthusiastic foodie, who holds regular taste tests and oversees mind-boggling speadsheet systems at Kiasu to ensure the highest standard possible at all times. Being of Malaysian Peranakan descent, which marks him out to be infamously particular about good food, Ronald has even allegedly taken on an ice-cream churner and a bunch of durians to personally investigate the best recipe ever for durian ice-cream for Kiasu which is one of over 40 Malayisan restaurants under the Malaysian Kitchen umbrella.
And with such dedicated foodies behind a restaurant, how can you go wrong? And for a forlorn Singaporean wandering London with an Or Luak-shaped hole in my soul, I could not have found a more authentic taste of home, this far from home. Highly recommended!