2 / 3 Beauchamp Place, Knightsbridge, London, SW3 1NG | www.layalina.co.uk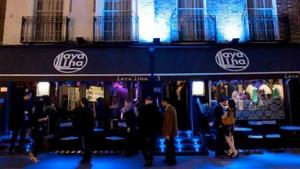 Laya'Lina is located on swanky Beauchamp Place in Knightsbridge. With stiff competition in the form of Italian celeb haunt San Lorenzo and trendy Japanese joint Nozomi, you really have to be great at what you do here in order to stand out in this neighbourhood.
We arrive at 7:30pm and the unfortunately the restaurant is empty. I always find it a little uncomfortable when you are the only two diners in a restaurant, but fear not, another couple appear as if by magic. Staff switch on the music and it looks like things could be moving into 'full swing' mode. But, Sade?… in a Lebanese restaurant? I like Sade… I can live with Sade. But what I can't quite seem to live with, is the contrasting thumping bar music coming from the adjacent lounge area. It is like watching TV and listening to the radio at the same time.
Staff are attentive and friendly and bring olives and assorted nuts to the table. We order starters of 'Baba Ghanoush' – a dish made with smoked aubergine pulp, garlic and tahini paste, 'Muhamara' – spiced and pureed pine nut dip and 'Jawaneh' – garlic and coriander marinated chicken wings. The Baba Ghanoush definitely didn't disappoint and was delicate and creamy with a deep smokiness from the aubergine which was excellent. The Muhamara I could have actually finished quite happily all by myself, although in my experience, good Muhamara should always have a bit of a kick of chilli heat from it and this was quite mellow and sweet, but still very enjoyable. The Jawaneh chicken wings are a disappointment. I'm not certain that they are entirely 'hot off the grill' so to speak. The flavour of the marinade was pleasant enough, but the skin was flabby and unpleasant, rather than crispy as it should be and the meat itself has an unpleasant aftertaste.
Still, ever the optimist, I'm hoping our main courses will have a little more wow-factor. 'Prawn Machbous' – King prawns in a spicy tomato sauce with mixed vegetables and saffron rice, 'Mixed Grill' – marinated chunks of both lamb and chicken with a lamb chop and mixed vegetables and finally 'Farooj Chicken' – Boneless baby chicken marinated with garlic, coriander and lemon dressing. The mixed grill is pretty good, plump and juicy pieces of well-marinated meat and chicken are both tender and juicy, albeit that the marinade for the chicken is a bit too sweet for my liking, but nothing too offensive. The Prawn Machbous is truly great and definitely my favourite dish of them all. Studded with meaty king prawns in a perfectly spiced tomato sauce and served with fluffy grains of yellow (but perhaps not actually saffron) rice and, unsurprisingly, more mixed vegetables. Farooj Chicken proves to be a bit of a let down as the chicken is a tad overcooked and therefore chewy and the marinade hasn't quite managed to permeate the meat, which is a shame.
Laya'Lina is not budget-friendly by any means… I balk at the £5.95 price tag of a portion of chips, as not even Gordon Ramsay charges that much for fried potatoes! The presence of chicken curry and coconut prawn soup on the menu baffle me greatly, I may not be Lebanese, but I think it's safe to say that neither are these dishes and I cannot understand how they found their way onto a Lebanese menu. The dessert menu is somewhat limited and absent of classic Lebanese desserts such a Muhallabieh (creamy ground rice dessert) and Riz bi haleeb (rice pudding). Instead, offerings include ice cream or sorbet Baklawa or fruit salad which all seem a tad overpriced I must say. I mean what kind of fruit salad costs £6.95? Dessert of the day was raspberry Crème Brulee, which we order and despite it turning out to be a strawberry Crème Brulee, it is rich and creamy and how you would expect a decent Crème Brulee to be.
Overall Laya'Lina is a handy spot to eat if you are in the neighbourhood and crave some Lebanese food. But Knightsbridge is an area that is peppered with competition and if Laya'Lina want to keep their head above water, some attention to detail wouldn't go a miss. Their claim is that they are a 'Modern Lebanese' restaurant, but I cant help feeling that this isn't entirely truthful and the special entertainment for the evening, courtesy of live keyboard renditions of 'O sole mio" did very little to convince me of its modernity. But I would definitely go back for the Muhamara and the king prawn Machbous, perhaps as take away until the music situation, and menu hiccups, are all addressed.