Le Cafe at the Sofitel, Gatwick Airport www.sofitelgatwick.com
On my last visit to the Sofitel, Gatwick Airport I sampled classical French fine dining at La Brasserie, a delicious but deceptively rich meal that left me feeling like I might prevent the plane from taking off the next morning. This time, en route to my Greek Island getaway, the ever-helpful Holiday Extras crew have booked me into Le Café, where I get to sample the delights of Parisian street food in the hotel's airy atrium.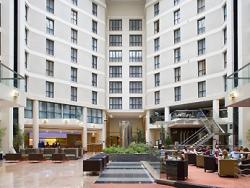 While my pragmatic companion calculates the extra rooms they could have fitted into the space above our heads, I'm already relishing the feeling of sitting in a park looking up at the sky; Le Café feels like the hub of the Sofitel with an informal, breezy appeal where you can scoff and watch the world go by.
We smell the garlic focaccia before we clap eyes on it; small and dangerously potent, it tastes like it's been drip-fed garlic butter for weeks so that every molecule is fattened to bursting; it is frankly indecent. We quickly demolish it hoping that the travel-sized tube of Colgate might be enough to take the edge of our morning breathe if we use it all in one go.
The largely French staff are spot-on and a credit to the easygoing elegance of this establishment. They bring us a classical beef stroganoff, a dish which I would rarely eat for fear of gut ache brought on by over indulgence, but a well judged portion wins me over with its smoky, creamy richness and tender strips of sirloin; the food equivalent of slipping your hand into a warm winter glove.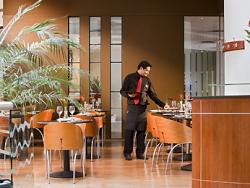 The Iberian saffron chicken stew uses thigh meat, peppers and chorizo to produce a deeply flavored, golden broth enriched with lots of good morsels. Again this is a deeply soothing dish that could have come straight out of a provincial kitchen with fantastically judged flavours (I would perhaps add a dash of lemon to really make it zing but that's just my thing). This is comforting, unpretentious food, cooked and served with panache, just the thing to serve up to weary travelers and a welcome antidote to the abstract sterility of airports.
A crème brulee was just the ticket to finish: shattering its hard hat of singed sugar we were rewarded with a perfectly set pudding, rich with eggs and vanilla, while some fresh berries put the breaks on things getting too Lordly. You can mix and match from the set menu and the a la carte, which also features some Asian inspired ramen dishes and curries, alongside favourites like the gourmet burger and the panko crumbed haddock & chips, which was flying off the menu while we ate.
Suffice to say that I didn't make use of the state-of-the-art fitness centre that evening, instead we took the glass elevator from the atrium up to our room (stand facing the doors if you don't like heights), before sneaking into our beautiful bed for a few blessed hours sleep before take off.