92B Old Brompton Road, London SW7 5LRwww.ramusake.com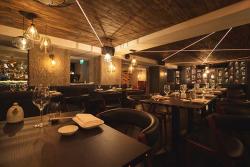 Set to hobnob the superwealthy, Ramusake has just launched as a late-night members' restaurant and club.
Its clientele seems to be Russian oligarchs, friends of royals and six foot blondes served by waiters that look like Nick Drake. This is perhaps not surprising given its location on the site of the old Brompton Club in South Kensington. Although we're told nearby Imperial College students pop in, these can't be the grungedog Pot Noodle students of my day.
Ramusake's concept apparently is post-modern Japanese fusion, an evolution of Nobu's Japanese and Peruvian cuisine.
The venture is between Scott Hallsworth, the ex-head chef of Nobu and chef-owner of Kurobuta and nightclub owners Piers Adam and David Phelps of Royals' favourite Mahiki Mayfair. For anyone that's been (not me), the menu is only a slight variation of Korobuta, adapted apparently to this bit of Chelsea.
Lanterns hang low in cages off the tables and the place is black, with black flock and very clubby. Actually, the strip lights across the ceiling and strobes on the wall are a giveaway and kick into play after 10pm when the mood becomes clubbish – they have a licence until 5am.
There were inexplicable black-and-white photographs of Yoko Ono on the walls the night we visited. It got busy around 8pm with leggy men and women and posh paunches in the main.
The menu's still evolving but when we went, the dishes were mainly tapas size and orderable at the same time. Most things were superb. You can have cold, raw salads such as beef fillet tataki with onion ponzu and garlic crisps. Ours was exquisitely presented: tongues of meaty raw beef laid out long with a runway of pureed onion and crispy garlic, squiggles of green onion and a gentle lemon wash.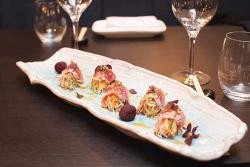 Or you can go for a choice of two Junk Food Japan dishes for Western takes on classic Japanese food. We had both junk foods offered: tuna sashimi pizza with wasabi tobiko which was my favourite. This was rolls of tuna balanced on crackers sprayed with green phosphorescent flying fish roe (wasabi tobiko) on a delicious slick of truffle ponzu base: "looks like a pizza Haribo," says the waitress.
The less successful of the two was fried chicken kara-age sliders with kimchee mayo, pickles and iceberg. While lots of  Ramusake's menu is raw, the chicken was a little too pink and stringy for my liking and I couldn't much taste the kimchee. Yet I ate it all as it was tasty enough.
Superb was the soba risotto with barley miso and grilled chilean sea bass. This came as a pot of nutty buckwheat risotto tempered with the almost alcoholic tang of miso under a smoky sweet piece of seabass, firm and slidey.  The tea smoked lamb chops with spicy Korean miso were hellishly smoky, and very chilli hot which almost kicked over the delicate tea flavour.
We also did another BBQ dish – jumbo shrimp barbequed with chilli, lemon and garlic: vast and meaty curls, though at £13 for essentially two prawns, a little overpriced.
There was only one dessert that night, three green tea/coconut icecream pods encased in dehydrated rice pudding which materialised as a gelatinous coating around the outside, chewy and quite delicious – also not too sweet.
We were gone by 9.30pm before all the action apparently happens. Italian DJs set up, all the furniture is packed away to make a dance floor and the real glammy showdown begins. But I much preferred their food to their jetset, to be fair.
Opening Times:  Wednesdays to Saturday, 6pm until late