Considering consumption (and copulation) are life's cornerstones, the desire to know what others are eating is hardly surprising. But bites for bytes, it does seems that everyone has become a critic these days, vis-à-vis the Big Bang of blogs, review sites and real-time, mealtime, 'Twitter' updates…
Such instant, accessible and often entertaining reviews must cramp the style of resto-ranting mainstream critics, many of whom have enjoyed a kind of culinary 'Droit de Seigneur' for rather too long.
Other than receiving an occasional insult from them, my frustration with the paid print 'cholesterasauri' is their London focus. If it's well-sourced, competently cooked and elegantly served, I'll travel miles for a memorable meal. In the past month alone, I've savoured sublime seafood in Scotland and perfect pork on Jersey.
More entertaining than the town's floral clock and in ruder health than its ill-looking palms, Hove's 'L'Eglise' brasserie is well-worth an escape from the capital's chaos. Founded by former Camden and Covent Garden restaurateur, Jean-Christophe Martin and his wife, Julia, I am told that the majority of customers track it down via word of mouth.
I booked for a Bordeaux-themed banquet – a journey in five-courses and five-wines chosen by Knight of France's Order of Agricultural Merit, François Domange. Domange begun tasting wine 'by age three', becoming proficient in cellar duties in the Loire 'at 13.' A kind of 'vinous angel', he now works with small, largely unknown estates, advising on style and branding whilst taking care of sales and export. Customers include the Holy Grail, 'Le Gavroche'.
Representing Bordeaux's 'Miroir d'Eau' – a rectangle of shallow water reflecting buildings on the Place de la Bourse – we started with a glossy tile of al-dente dim sum sacks of pristine steamed duck foie gras and meaty goose confit crossed with expressive Cabernet Sauvignon paste. Rested, Château Pavilion Rocher's '04 Grand Cru added fine, truffle-scented savoury facets and a little dry herbs and fruit.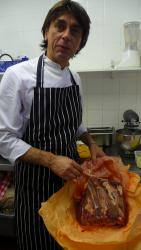 As one waiter transported roast duck legs to the estate agents next-door, another brought us tender monkfish tail 'caught from the middle of the English Channel'. Served with saffron-kissed, beady rice and pearl-like grapes, a sufficient depth of velouté coated the forkful – far more functional than a few dainty, decorative dots. '07 Graves Blanc (Domaine Moulin à Vent) was aromatic and full-bodied with honeysuckle, discernible bite and a long, dry, mineral rich finish. A slight trace of resin brought the pine tree windbreaks that protect the vineyard into the glass.
The absolute highlight was the Côte Bordelaise (beef short rib) lacquered with lustrous winey sauce lifted with cinnamon and star anise. According to Martin, who originally worked as a chef, this was inspired by 'Balthazar', New York's 'ultimate' Parisian-styled restaurant. From the same soil as illustrious, Château Beychevelle, Château du Retout's Haut Medoc Cru Bourgeois '02 was sturdy, with saddle leather, earthy cress, some cassis and cosy game notes, echoing the ruddy seven-week matured meat. Incidentally, by arrangement, the restaurant will push some cuts to three months maturity. By contrast, conversation fleetingly turned to Heather Mills' nearby vegan café…
Unfortunately, grilled goat's 'Fromage d'Aquitaine' on walnut toast lost its grace alongside still-closed Saint-Estèphe Fief de la Haye ('05). When spun in the glass, it left inky traces like potassium permanganate. Despite Domange 'not being scared of it', the vinaigrette binding an accompanying mesclun muddled matters further.
Lastly, jelly-shaped, chewy-edged Canelé de Bordeaux baked in copper and enhanced with vanilla ice cream achieved sybaritic unison with young, cleansing Sauternes. This presently light-coloured sweetie came from Château Caillou – a surprisingly well-known wine to punctuate Domange's otherwise low-key portfolio ('07).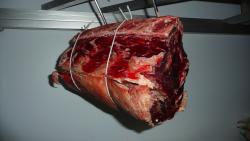 It was unquestionably worth the journey for this journey, which brought the world's largest fine wine region 1,000 miles closer. At £70 inclusive of fizz, all matches and espresso, it seemed fairly priced. Whilst omissions, like the absence of side-plates proved a perpetual niggle, the culinary mastery of chef, Jean Yves Guiomar (particularly his dexterous saucing) combined with Domange's thoughtful vinous collaborations made this meal a standout…