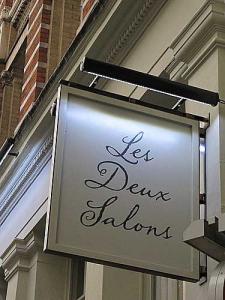 You can't say that Les Deux Salons in London doesn't do what it says on the tin. There are indeed two rooms, although the upper one isn't working yet. Judging by the crowd this Tuesday lunchtime Anthony Demetre and Will Smith will need to get a move on with opening upstairs.
It's busy, properly busy. Not with the train-spotting anoraks who flock to new openings and then, having noted carriage serial numbers and taken a photo of the loco, move on. No these are proper punters, the ones who work in the area and will provide the backbone of the turnover.
The noise is good, conversations are spilling across tables, some of them in French, and the aroma is one of cooking with purpose. If it wasn't for the hideous ugliness of the main Post Office just visible across the road, you could almost be in Paris.
The décor is unashamedly pastiche but there's rien wrong with that. The place used to be an All Bar One, but you couldn't tell. The current trend for All Bar Ones to become real restaurants is encouraging.
Encouraging too is the arrival of more and more of these kind of informal restaurants where the emphasis is on flavour and value, not seeing how many micro basil leaves chef can make dance on the head of a pin. Antony Demetre has his Michelin stars, but more importantly he has his eye on the culinary ball.
With the unshowy success of Arbutus and Wild Honey, Demetre and front of house manager Smith demonstrated a skill for delivering what the people want. Les Deux Salons is more of the same but with very much the emphasis on Parisian Brasserie with its air of timeworn opulence. There's a set main course for every day, plus a very well priced set lunch and a super-speedy pre-Theatre dinner.
There's a Josper grill sending out burgers and steaks, if you're a teenage diner, plus salads for the slimmers and all the things you really want to see on a menu, so much so that we get that rare treat in a restaurant – like Freddie Mercury we want it all.
Rose veal 'ravioli' are ethically sound and utterly delicious. They are not pasta; instead thinly sliced veal comes wrapped around a stuffing of goat's curd and chard. The creamy mild cheese is perfect against the tang of chard, which always tastes rather like licking a lamppost. There's lemon juice in there and the sweetness of preserved lemon rind too. The veal, not being milk-fed, offers more flavour than the white stuff. It's a perfect starter, simple in concept, perfect in execution and light on the stomach.
J's fish soup smells right and comes with the traditional trimmings, including a garlicky aioli that could kill the entire cast of Twilight at a hundred yards. It's rich and velvety but not so 'fishy' that it's hard to take, shellfish is my guess for the main ingredient as it's almost bisque-like.
I overcame my sad squeamishness about eating rabbit a few years back, French friends served it every time we went round and it soon became impossible to refuse without causing an international incident. Now I can't get enough of Bugs's bits. Here the rabbit is ballontined into cylinders, the dark meat in the centre, and the result wrapped in prosciutto or a near equivalent. It's a dish you could do at home, with chicken if you prefer, but you won't do it as well. Pumpkin gnocchi are a little bit gluey on the upper palette but still earthily lovely, while hazelnuts and good old chestnut mushrooms give a warm Autumnal glow all bathed in a jus that is just savoury nectar. Never trust a chef who can't make a decent jus, it means he doesn't know how to make anything.
On the other side J is tucking into petit sale belly of pork. This has not been crisped, just buried in salt for hours, if not days and then cooked in bouillon loaded with vegetables so it is deeply moist. Above all it doesn't have that annoying tendency of belly to stick in the teeth like a savoury Bounty Bar. Puy Lentils, also cooked in the bouillon in the classic manner, provide the bite texture. Unlike other lentils Puys don't turn to mush on cooking or make you want to join the Socialist Workers Party. Puy Lentils are Tory lentils; well bred, nicely turned out, a bit dim and currently in power.
And so to pud. They do a Rum Baba here but can it compete with Galvin's in Baker Street? Yes it does and they even slosh over a goodly dollop of rum at table too. Rum Baba is of course of Polish origin and it's a brioche; a little yeasty bun, simply soaked in spirit. Not too tricky to make but, like anything involving yeast, not to be approached casually. It needs to be a proper semi – not too hard but not too soft either. This is light, unctuous and rich and really perfect, a dish to dribble over and forget about calories. I liked it even more than the ones that mum used to buy me in Happy Eater; yes it was that good. They say Alain Ducasse does a baba with a selection of rums, typical overkill that won't tempt me back to that overrated oligarch club anytime soon.
J's Paris Brest is more patisserie; choux buns sandwiching whipped cream and with flaked almonds dotted around. He said it tasted a bit salty but was otherwise all he expected from the dish that has led many a French child into sin.
Well priced wines come in handy sized carafes ideal for lunchtime drinking – enough to dull the pain of going back to work, but not so much as to have you firing off emails you'll regret the next day. Ask me how I know.
Demetre and partner Smith won't regret opening their third restaurant. Located in the right place to hoover up theatre crowds, out of towners and locals, Les Deux Salons is priced to attract repeat business with cooking you can trust. Bien fait.