69 Long Acre, WC2E 9JS www.liveli.co.uk
Two winemaking, hotel owning families running an Italian bistro in Covent Garden; Tom heads to Li Veli to see if experience makes for excellence…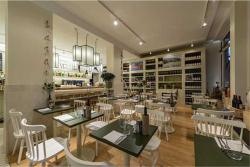 I've worked with a lot of chefs so far in my life. Some good, some not so good; one in particular who prepared more lines of coke in his kitchen than plates of food.
But one thing that I can honestly say about all of them is that they have been passionate about the dishes they serve.  Underneath the tiredness, the stress, and occasionally the heavy drug use, they have loved the food they work with.
Unfortunately the same cannot be said about the all of the waiting staff I have spent shifts with. There are many great waiters and waitresses, but there are also many low paid, uninterested food-mules that do the job because they need a job.
And there lies a problem.
Because after all it's the waiting staff who a diner sees, it's the waiting staff who answers questions and describes the food, it's the waiting staff who deliver each dish to the table.
The other night I was lucky enough to dine at a restaurant in Covent Garden at which passionate waiting staff were definitely not an issue. They knew every detail of every dish; where it had come from, the ingredients, the source of the ingredients. They knew how to pair it with wines and everything about those too.
They made the 12% (or whatever it was) service charge seem completely and utterly reasonable. And I hate service charges.
Li Veli is a wine bar and bistro specialising in the food and wine of Puglia, the heel of Italy. It was opened by two families; the Falvo family, owners of the Masseria Li Veli Winery in Puglia, and the Melpignano family who run San Domenico Hotels.
This combined experience appears to have produced something rather special.
The restaurant wasn't busy when we went along, but there were a few tables. It's laid out well for its size, offering standard seating along with a high, bar style option and some more relaxed tables perfect for a glass of wine and a snack.
Wine from the Masseria Li Veli Winery covers the walls, everything is muted and white yet comfortable and homely almost.
Starters kicked things of well. An Apulian burrata was creamy and fresh, the peeled tomatoes surrounding it adding not only colour but also a sweet cutting contrast.
A broad bean mash, or Fave E Cicoria, was earthy and comforting. Spread liberally across a Taralli, crunchy almost breadstick like Apulian ring, it didn't shout flavour but, rather like the décor, spoke at a sensible, appealing volume.
Apulian Frisella Bread was bagel shaped but much denser, orange tomatoes sat on top and that was all that was needed. The theme, as I'm sure is noticeable by now, is good produce being allowed to shine.
There is always a problem with good starters, and that is the expectations they give for mains. I can think of many meals in which I regret not leaving after starters, not because the mains were bad, they just fell a little flat compared.
Starters have the edge. Starters have hunger on their side.
Thankfully I didn't leave Li Veli before the main course though, because I would've missed out. My baby octopus stew was, quite honestly one of the most moreish main courses I have had the pleasure of eating so far this year. Even after enough bread to feed an army.
Olives, potatoes, black chickpeas and capers joined the octopus in a bath of tomatoes and well-balanced spicing. If I could've fit I may have joined them myself.
My accomplice's grilled chicken served with potatoes and spinach sounded like the most boring dish on the menu. Yet everything on her plate produced a smile. If that's as boring as the menu at Li Veli gets then they have little to worry about.
We finished with a pistachio ice cream served with a drizzle of fantastic olive oil and a proper Italian coffee.
Until my visit to Li Veli I knew very little about the food of Puglia, and even now after that meal and the encyclopedic waiting staff, I'm sure I have only scratched the surface.
What I do know is that I want to learn more, and I now I also know the perfect place to learn.
Want to know how Emma got a taste of Seville on Regent Street?