Lucknam Park,Colerne,Chippenham,Wiltshire, SN14 8AZ www.lucknampark.co.uk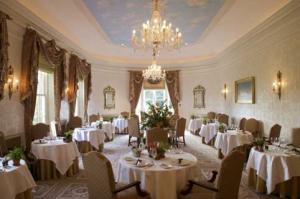 Ever since yours-truly absconded to the sticks my love-hate relationship with the city has somewhat intensified. I find myself making excuses to head back into town 'for work"- then quickly berate myself for finding such a soot-bag of a city so gloriously appealing (particularly when I could be feeding the chickens, helping out at the village fete planning committee, or taking advantage of one of those Pizza Express Buy One Get One Free offers). Bah. You urbanites don't know how lucky you are. The truth is, if you're a foodie and don't live in London, seeking out those little gems is a full-time job. (And if Taunton has one, please tell me where). But when you do find them, ahhhhhh, all is well with the world once more.
The Park (at Lucknam Park – a hotel that I fully intend to find an excuse to write about one day) is such a place. It's headed-up by Hywel Jones (Chef of the Year at the Cateys 2007) who first came to prominence at SW1's Foliage, earning a Michelin star back in 2002. Following a mild flirtation with Islington (Lola's) then a bit of a mooch round Notting Hill (Pharmacy) he's ended up here in the south west, some 6 miles outside Bath and 40 odd miles from his home-town of Cardiff (he commutes).
The restaurant occupies a former ballroom within this 17th century mansion and a menu that offers either a la carte or a 7 course gourmet tasting extravaganza. The menu also stresses that the kitchen would be happy to deviate from either of these and prepare dishes that are a little 'simpler in style'. (A waitress later tells me that this is typical Hywel – no diva dramas in this kitchen – and 'he only shouts when he absolutely has to.").
I'll lay my cards on the table from the off: I think he's one of the UK's most exciting chefs. In fact let me go one step further: last night I had one of the most enjoyable meals of my life (and I'm darned lucky enough to have been to some of the best). The Park is one of the best (as far as I'm now concerned). What made it so good? The flavours, quite simply. Imaginatively thought out, sensitively balanced, and beautifully executed on the plate. Hywel is the kind of chef who instils confidence (in diners and, I suspect, staff). Everything just worked.
Clearly he romances some great suppliers too which always helps. With a few cursory nods towards the south west (Slow roast belly of Roundway Hill pork, caramelised apples, pan fried foie gras, organic cider sauce…) it otherwise simply embraces the best of British.
I started with Roast baby artichokes, truffled leeks, slow cooked Burford Brown egg, and butternut squash. I was told the egg is cooked at 62 degrees for an hour which accounts for the nutty, almost sweet flavour. Mr Lois was just as thrilled with his meltingly beautiful Confit of citrus salmon, beetroot tart, coriander yoghurt and soft herbs.
I decided to sample from the veggie menu (one of the best I've seen): rolled lasagne of spinach, pine nuts, butternut squash and Ragstone cheese, with white asparagus and wild mushrooms. The old ones are the best eh? A killer combination, cooked to perfection: woody mushrooms, fragrant yet delicate asparagus and the decadent but expertly restrained flavours and creamy texture of the cheese. On the plate, a deconstructed look. Loved it.
Mr L opted for the succulent Loin of Andrew Morgan's Brecon Venison, pumpkin and sage risotto fritters, and sloe gin and bitter chocolate sauce. Clever huh? But not just for clever's sake; again, it all really worked and didn't feel like a 'chef'y' gesture.
Speaking of cheff'y gestures I must mention the cheff'y bread. Having had too many 'why did I bother?' moments in the past I nearly declined on the bread-run here. Glad I didn't. Whod've thought that a simple (but just on the right side of sweet) bacon and cheese potted (!) brioche could become such a talking point. About to commit carbicide? Come here and make it worthwhile.
3 courses of the a la carte come in at £66 – but when you factor in the little touches and extras the whole thing seems like an absolute steal. On arrival, dinner guests are seated in a sexy little cocktail lounge with drinks, menus to muse on and gorgeous canapés on which to nibble (olive muffins – in miniature!). I'm a sucker for that stuff – plus all those amuse-bouche little surprises (and these were an event in themselves – along with some of the prettiest petits fours I've ever seen (or tasted); the salted caramel was particularly memorable).
The wine list has a really good range (in terms of both budget and choice). A little snag for me is that I do like a few descriptive notes – but I guess that's what a sommelier is for (and very helpful he was too, advising on a Chilean Sauvignon that really 'popped' with the food.
The service was terrific, not much else I can add to that. Despite the physical grandeur, staff managed to achieve that elusive balance of being welcoming, not obtrusive. Helpful, not pain in the arse. (They didn't even wince when Mr L ordered a 'floater' coffee – sure you wouldn't have preferred a soda stream hun?
At just an hour and fifteen minutes from London (by train), I'd grab the Friday night 1730 and make a weekend of it.
First Great Western operates trains between London Paddington and Bath. Cabs are then available for the 6 mile drive to the village of Colerne.