Brixton Village Market, Unit 18,Coldharbour Lane London SW9 8PR mamalan.co.uk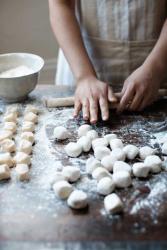 More important than a collection of world-leading restaurants, perhaps what the London food scene excels at above all else is a restaurant's ability to master that single plate – be it the clever execution of one ingredient or the juxtaposition created between several – that keeps customers returning time after time and tourists, locals and the press rubbing their bellies in gluttonous delight.
Time Out recently undertook the difficult task of listing 'London's Top 100 Best Dishes', something bound to cause rumblings from the bloggers and all-day-Tweeters, not simply because it stands as such an open and heavily-opinionated debate but because it's a list that could very easily creep up and up into the high-hundreds. There are, for instance, several standout burger and steak-joints; thin-crust, ingredient-piled pizzas, and what about pulled-pork, Scotch eggs and ramen?
The hand-rolled dim sun parcels at Mama Lan in Brixton Village are without question, list-worthy. Small parcel Beijing dumplings, or gyozas, are made onsite, and rolled into bitesize servings of five. Served alongside pickled vegetables they come in 'beef and spring onion', 'pork with Chinese leaf and woodear mushrooms' and 'Chinese leaf and carrot'. All vegetables are sourced from the doorstep in Brixton Village Market and put to exquisite use.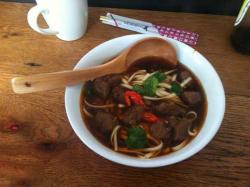 The beef noodle soup in its dark, rich broth with carrots, thinly-sliced leeks and red chilies is probably the best you'll find anywhere outside of Beijing. The quality of the beef is exceptional; no surprise as the meat is free-range and supplied by swanky butchers, The Ginger Pig. Served liberally and in thick, greedy chunks, it's the crown jewel in the bowl. The broth is steaming hot and heightened by the addition of lip-tingling red chilies. The noodles are prepared on-sight in front of you while you order. The pasta is rolled out, flowered and tossed; then cut into squares, flowered again before being cut into noodle-strands before boiling. The freshness and quality is evident immediately.
On the tables is a mixture of accompaniments: Chinkiang black rice vinegar and pungent chili oil were two perfect liquid puddles to dip steaming dumplings into and my choice of 'White Monkey Paw" Green Tea from Wuyi Mountains in Fujian Province, China was not disappointing. In fact, it is probably the greatest named drink in the world.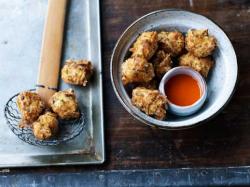 What began as a supper club in 2010 by Ning Ma has become a hotspot in South-London and one of the standout arcade shops in Brixton Village Market. The corner unit – you can barely call it a restaurant, but rather a cross between street-food stall and Chinese canteen container – is first class for both its food output and as a working show of technical ability and craftsmanship. During my lunch visit Ma's mother was at the helm of this family-run operation; rolling, dicing, and finger-pinching each of the dumpling parcels for the busy lunchtime rush.
The offering is limited with a brief menu listing only two 'Noodle Soups', three 'Beijing Dumplings' and four 'Street Snacks & Salad' options – now that shows confidence in your kitchen. Ingredients are local, fresh and packed with flavor. A bite of Beijing via Brixton and a beef noodle soup worthy of any list. Go now. Go, go, go