­­­­46 Grosvenor Place, London, SW1X 7EQ mangotree.org.uk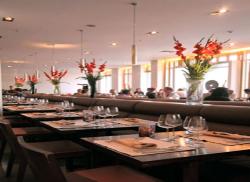 By the time you read this, life in post apoc-Olympic London will be settling back down to normal. Athletes and tourists will have returned to their native lands, tube trains will be filling up with dour faced commuters, the news will cease to serve as a sports highlights show and Mervyn King will ultimately knock Usain Bolt from gold medal position in the headlines.
Sounds grim, doesn't it? Well, yes. That said, the party doesn't have to end with the closing ceremony. If the last two weeks have shown us anything, it is that when you look at London through the eyes of a visitor many places have long been imbued with what is now known as "Olympic spirit." And as I discovered recently, one such place is Mango Tree, a fine dining Thai restaurant in Belgravia.
Situated virtually in the Queens back garden, Mango Tree is ideally placed for diners keen to take advantage of their renewed awe for the capital. Inside the place lives up to the majesty of its surroundings. On entering, the pleasing sound of a hundred colliding conversations created an atmosphere I was keen to dive in to. Once seated, clever lighting, Feng Shui furnishing and attentive service created our own intimate bubble in the packed dining room.
My visit was to try the Olympics menu. Running until early September, Mango Tree's Head Chef Aod and consultant chef Ian Pengelly (of Gilgamesh fame) have devised a six course Thai feast to celebrate the event that has so seduced the nation.
Seafood dominates the first three courses of the menu, so we plumbed for a 2008 Pinot Gris from Alsace to accompany the meal. Medium bodied and smooth, the wine had lasting notes of passion-fruit and apricot that both stood up to and complemented the spice of the food.
The first course was a mixed crab and potato tian on a bed of avocado. It was soft in texture and pretty enjoyable, the best bit being a mango drizzle which brought a flavour of Thailand to the dish.
Next came a medley of queen scallop and salmon. The salmon was grilled in a sweet lacquer that gave it a nut brown exterior and beautiful pink middle. An accompanying soup harnessed the subtle flavours of galangal, coconut and shimeji mushroom to finish the dish brilliantly. This course nailed the heat, delicacy and perfume that characterises Thai cuisine so well that I was almost sad to have my palate cleansed by the course of the Lobster Cocktail that followed. Here, lobster tail was served with a fruit salad of papaya, strawberry, melon and mango. An inspired touch of delicious, popping caviar gave a necessary savoury edge to this clever dish.
The main course was Wagyu beef, served with grilled aubergine in a green curry sauce.  The beef's characteristic extensive marbling made for tender and outrageously rich meat. Any other beef would have floundered beneath the intensity of the accompanying green curry sauce which itself walked the line between strength and delicacy pefectly. The flavours of chilli, Kafir lime leaves and coconut milk were prevalent in the sauce and pockets of anise exploded on the tongue courtesy of fresh Thai basil leaves. Aubergine provided a deep succulent quality and the use of acorn like aubergine peas made for a fascinating bitter diversion.
To finish, a picture-perfect triptych of desserts was presented. A green tea crème brûlée sat flanked by a chocolate brownie and mango sorbet. All three were delicious but the brûlée was king. Its unctuous texture worked with the brownie and its fresh yet decadent flavour brilliantly played off the sorbet.
The price tag of the Olympic menu is fairly hefty at £75 per person, but then again when is the last time you had Waygu beef, lobster, caviar and scallops in one sitting? This is clearly an all-out menu to mark a special event and so is worth the money if you have it. As we sipped our coffee we realised how time had flown- we had been eating solidly for three hours. Mango Tree is a place where you settle in for the evening, get your feet firmly under the table and are made to feel thoroughly welcome regardless of your budget.
The Olympics may be over and London may once again belong to Londoners but don't be too deflated. When there are restaurants like Mango Tree at our disposal we shouldn't forget that London's legacy never has been, and never will be entirely reliant on the Olympics. But if you really can't face real life after the Games, I suppose you could check out Mango Tree's upcoming Lady Boy Competition to delay reality for another night or two….