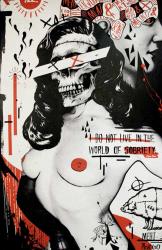 What do I write? Well, what do you want me to say? That it's a burger. A perfectly executed meat patty held in a toasted bun. Slices of oozing cheese squeezing out of the middle crevasse. Dripping grease lubricating the fingers and waxing the lips. Lettuce at the base of the bun, but who really cares about greens?
Meat Liquor is here. After much anticipation. The crew behind The Meatwagon have opened the doors to this once car park – fitting, seeing as chef Yiannis Papoutsis met pub owner Scott Collins in a Peckham car park, and thus forming Meatwagon – and in doing so have caused queues snaking around corners and up Welbeck Street.
Red 'liquor' signs are suspended in the window and there's crimson graffiti inside. It's dark. What light there is is neon or flickering within suspended cage lamps. The design is grimy, Bo-ho, meat-pit. Corrugated sheets and Steadman-esc splatters create an eerie electric atmosphere with an artist's hallmark.
But what 'you' really care about are the burgers. Burgers are a complicated commodity. Their assembly is straightforward, but they take on many forms. They're a man's sandwich, the quantum leap from two slices of bread to two thickly sliced, seasoned, and lightly-grilled baps.
Add-ons take numerous forms. It's the flexibility of the burger, the sandwich, roll, baguette etc. At Meat Liquor they can be meaty, spicy, cheesy, tangy, suped-up with pickles, mustard, chilli, bacon, mushroom, and/or red onion. They're accompaniments that aren't always necessary. The Dead Hippie Burger contains a double beef patty, binding sticky cheese and a secret sauce (I removed the pickles). The bun is slightly warmed and crisp and there's a minor crunch when taken in.
It provokes all the right stirrings. The breathing deepens, the arteries bulge, and a whack of full meaty flavour is released upon your chops.
The Chilli Cheese Burger is just as pleasing. There is also a Bacon Cheese Burger and a Double Bubble Double Cheese Burger. Again, the thick agglomeration of meat, like Discobolus' discus, is held by two cosy buns. I fire it up further with splashes of Dave's Hot Sauce and it rips a hole through my gob and brings tears to my eyes. I take another large bite and almost soil myself.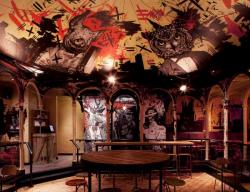 Between takings I dip into sides: spicy buffalo wings are small but meaty. There are also chilli-cheese fries and deep-fried pickles with blue cheese dip.
An impressive cocktail list is explicit with vulgarity declaring: 'You can't XXXX with rosé, if you mess it around it tastes shite.' And they have a point. The list was designed by Soul Shakers and reading through it will do exactly that. Drinks arrive in jam jars or elaborate cocktail decanters. There's an English Breakfast Martini with a pickled quails egg on a stick, and Donkey Punch, a play on the Moscow Mule made with lime juice, ginger beer, and absinthe.
So that's that; this burger ballad. I hope it's a bulging composition of a well accomplished hamburger and will get you there standing in line. I don't follow the meat philosophy of burger-masturbators, but of all the meaty patty buns I've tried around the world, from New York to London, Hamburg to the fallen crowns of high street chains, this steals the mantel and piles on the pressure to those so-called burger producers who routinely flip over banausic meat patties and place in boring buns, for they now find themselves wanting.