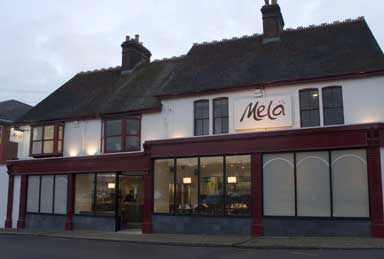 My understanding of Indian food is largely based on years of always-the-same-order telephone takeaways (`yes, that's right, the usual … chicken dhansak please`) or crouching in the funereal silence of a high street curry house exchanging sidelong glances with the waiter, who regards you with that finely-honed mixture of caution and contempt perfected through years of doling out lager and baltis to rowdy, over refreshed men in outsize sportswear.
So it was with no particular sense of expectation that we set off for the newest and southernmost outpost of the London-based Mela group, located in the suburban heart of Redhill's nappy valley and styled as a 'restaurant and bar'.
The bold, brightly lit frontage gives the sense of arriving at a destination and inside, an informal café area gives way via a corridor draped with twinkly, backlit saris (`ooh, how lovely` I hear you gasp and do you know darling it is) to an airy, modern dining room. Lots of leather, teak, subtle lighting and that hard to pull off judgement in creating just the right amount of space between tables. I don't want to eavesdrop on other peoples' business (well, that's not strictly true but you know what I mean). A special mention here too for the shimmering wall of ironic flock wallpaper.
We started with bathak ka, a samosa with a robust filling of minced duck, and raj kachauri, a lentil puri. Both were substantial, with a light and shade in the flavours and serving as fair indicators of Mela' approach: deft and balanced, with a considered hand at the spicing.
Main course was fish malabar, a southern Indian dish. Big, firm chunks of white fish in cauliflower, coconut and coriander sauce. Again, the spices were there without giving you a good beating with the chilli shovel. My wife had the eliachi gosht korma – lamb simmered in yoghurt and cardamom. I found it a bit on the chewy side but I was always admonished by my mother for bolting my food. A salad of lentil sprouts and mixed leaves dressed with pomegranate seeds worked really well with this.
The menu offers helpful and fairly priced 'wine matches' with each dish and the usual range of other drinks. We went all abstemious and found the sparkling water to work at least as well as booze, but this isn't the place for a dull debate around whether wine with Indian food is a good match. Have both I say. And then a beer.
We finished with that mighty warhorse of the Indian menu, gulab jamun. My past experiences of this particular confection have been marked by regret; a stodge and sugar rush that didn't calm the palate – just coated it. Again, this was different. Syrupy (in a good way) with a floral note – rose water?
My wife, who routinely inspects restaurant loos with a thoroughness a weapons inspector would consider a trifle pedantic, reports that the ladies' was both pleasing on the eye and immaculately clean. This stuff matters and people want to know.
So, my initial low expectations were confounded by Mela. And, as a bonus, I didn't have to take the cholesterol challenge. The food is thought – out; satisfying and light enough to allow you to leave the table without that slightly winded feeling. Great to see proper salads on the menu and service that is friendly, low-key and frowning-man-in-bow-tie-free. No more chicken dhansak for me.
Gary Hughes
which suggesting they were put together with some thought to doing it differently.