19-21 Monmouth Street, London Tel: 020 7836 7243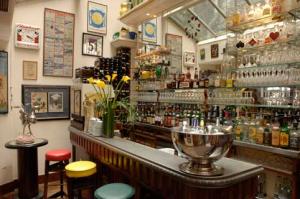 It was instructive, at least, in Covent Garden that night. Don't get me wrong, I can rock up to caffs in the daytime and sit alone whenever I'm hungry but I've never been deserted on hors d'oeuvres. We had just begun the salmon and herb tartare when my companion – for we shall call him this – started clutching his guts and gasping for mortal breath. 'I don't feel well," he murmured, a greasy sweat breaking out on his forehead. I dived into his starter while he paced the streets outside, ill.
My hors d'oeuvre of parfait of foie gras with passion fruit and brioche was lovely and ungimmicky. The foie gras was refined, not too livery or fatty and well counterbalanced by the sweet of the brioche and caramelised onion chutney, (later discovered to be the purported passionfruit). 'At least wait until mains?" I begged, teeth clenched and mercenary when he slunk back, wax-pallored. And then it was not my pleasure at Mon Plaisir that busy Friday night to be abandoned, dining alone like the tragic figure I sometimes hope I'm not. Do I stay or do I go? But the staff were so sympathetic, shuffling me to a less conspicuous table, making me feel welcome. So as not to let a good dining opportunity go to waste, I plunged back in.
Mon Plaisir is London's oldest French restaurant and caters to tourists, local regulars and Covent Garden's theatre-goers.It has a part French bistro, part Aztec décor going on, from the brass pots and pans to the geometrically patterned walls. Certainly there was a rosy bonhomie bouncing off the wooden panels and 1940s prints that night.Having hidden myself in the darker room, I had roast cod with orange juice, rosemary and a black olive tapenade. This was a simple but nicely-cooked affair. So much French food can be too rich but this was airy. I'd forgotten the olives were in there after the trauma of abandonment but loved how their dark force mulched the tang of the orange. The sauteed potato sides were beautifully fried in goose fat, too. I did wish, however, that someone had told me the fish came on a bed of spinach when I ordered my vast spinach side. Not wanting to linger, I sped on to a trio of crème brulée that included petit nutmeg and coffee puddings. These achieved the splendour of being both delicately ephemeral and good honest eggy – a fine thing, in the same way, I told myself, that eating alone sometimes is. The dining room was pumping with gangs, mates and lovers when I left. Only then did I wonder, food in belly, about my companion's stricken health.