Triton Court, Worship Street, Moorgate, London, EC2A 1BR www.mustik.co.uk
I have never been to the Caribbean, I have never eaten Caribbean food. With my narrow appreciation of island cuisine all I knew to expect from the recently reborn, tropically themed bar and restaurant Mustik was perhaps some rice and peas, possibly a goat curry and a half decent mojito. I wasn't disappointed although as it turned out this part of Moorgate is, I'm not kidding, a no goat zone.
Located half way up the south section of City Road, backing onto Finsbury Square and the imposing Triton Court office complex, Mustik sits where old favourite The Worship used to be until it was irreparably damaged by smoke last year from a devastating blaze on adjacent Tabernacle Street.
Re-opened in June, the owners have opted for a radical re-vamp that includes loud floral wallpaper, rattan furniture, two cocktail bars and a basement dancefloor that's open until 4.00am. The only clue from the outside that this is a Caribbean concept is the thatched straw canopies over the windows and main entrance.
Mustik is a cavernous space and can easily accommodate groups of up to 150, making it the ideal party and after work venue. We visited on a Tuesday and were one of only three tables dining, with twice as many drinkers ensconced in the lounge area at the other end of the room. Things really come alive from Thursday to Saturday where a Brazilian live music night has people queuing up to shake their booty, rum punch in hand.
Now I like a cocktail and a boogie with the best of them, and the Mustik mojito is hard to beat, but having sampled Trinidadian chef Hasan DeFour's new 'Yah Man' menu, I fear my after dinner footwork would be more Widdecombe waddle than sexy samba. Caribbean cooks are unstintingly generous in both calorie count and portion size.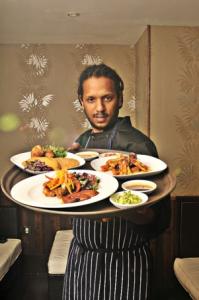 Taking the advice of our eager-to-please waitress we began by sharing a mixed platter of appetizers. Salt-fish fritters, pholourie yellow split pea fritters and plantain fritters (you get the fritter picture) were each crisp, golden and wonderfully moreish when dunked in the three dips, ranging in spiciness from sweet mango, to savoury tamarind and a kick-ass Scotch bonnet chilli pepper sauce. The batter onslaught was nicely intercepted by the zingy Yah Man shrimp – prawn and pineapple skewers cooked in a spiced citrus sauce with added Scotch bonnet liquor.
Main courses were again recommended to us and followed quickly. Calypso red snapper arrived in a meaty hunk with a sunny looking sauce of tomatoes, red peppers and grilled pineapple laced with roasted spices and rum.
BBQ breast of chicken had not seen any hot coals but was nicely cooked and smothered in a smoky brown sauce that was fine if none too exciting, and the highly anticipated jerk chicken came doused in the classic seasoning of thyme, nutmeg and Scotch bonnet that while tasty, was nowhere near hair raisingly hot. Don't be alarmed by the constant presence on the menu of one of the world's most lethal chilli peppers. If you like curry and can handle anything stronger than a lamb bhuna, you can cope with Caribbean.
Coerced most unnecessarily into dessert we tried the coco de caribe slice (bizarre, sickly, out of a box I fear) and the banana cake (school dinners stodge). To stand half a chance of hitting the dancefloor, my advice is to leave well alone.
At between £2.50 – £4.00 for starters and £6 – £8 for mains, Mustik is great alternative to the usual chain cheap eats and perfect for groups and late night lounge lizards. There are plans afoot to take the Yah Man brand mainstream with street food outlets opening in the city over the next 12 months, which at takeaway prices will make this concept cuisine the bona fide bargain of the century.