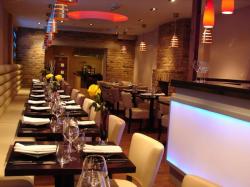 Namaasté Kitchen – Camden's new Indian bar and grill – might be on the small side, with the possibility of your privacy being invaded by strangers on nearby tables (just don't share your deepest secrets while dining), but it promises a fresh choice of grilled Indian grub in a stylish yet unpretentious setting.
The restaurant is nestled comfortably between Camden Town's concrete guise and the more relaxed leafy setting of Regents Park. It's a sister to Russell Square's Salaam Namaste, and its name apparently translates as an Indian greeting. We were definitely greeted well, with staff appearing content and friendly, but we were eager to see whether the food could match up.
A mid-week evening and the place was almost full. The narrow dining area was busy but softened by a subtle orange hue while the bar, with its blue lighting, stretched down past lines of minimally decorated tables, giving a modern feel. It was pleasant to sit within the warm tones from ceiling lamps which bounced off rustic bare brick walls, emphasising the menu's contemporary twist on traditional Indian dishes.
After an indecisive scurry between tables, our final choice resulted in a restricted view of the open grill generally out of view at the back of the restaurant. I couldn't help feeling it would have worked better as more of a spectacle – in the centre, with diners seated around. However, the restaurant's balance of elegance with ambience made up for it, retaining life while equally appearing peaceful and laidback; a reflection of its location.
We kicked off the meal with a pile of papadums, accompanied by three dips: mint and coriander, tomato and cumin seed and mango, complemented with a bottle of Sauvignon Blanc de Loire – a zesty light and dry white wine recommended for chicken and fish dishes. The dips were simple and fresh, my favourite by-far being the mint, with a moreish flavour that ensured I appeared as greedy as ever, gobbling them down one after another.
For starter, we ordered Peshawari lamb chops marinated with fresh ginger paste and raw papaya and home smoked lamb sheek kebab with green chilli, cheese and garam masala. The chops were average in size, dressed with mustard and presented creatively but unpretentiously on a small square plate with leaf garnish. The meat was tender with that all important crunchy charcoaled texture from the grill. Honestly delicious. The kebabs – presented in the same manner – boasted spices that complimented and didn't overpower the meat.
By 9pm the restaurant was packed, meaning there was now a wait of around 20 minutes between plates. While waiting for mains, we were given an additional appetiser – a deep fried mash potato, corn and green bean filled ball, drizzled with a mango dressing and topped with rocket leaves. Though it felt almost pointless, it was tasty, with an alluring crunchy exterior which nicely contrasted the tender insides. It went down a treat but by that time I could have eaten plenty more than just the one.
With three types of basic grilling methods forming the menu – the hot clay oven technique of Tandoor accompanied by Sigri (cooking over a coal flame), and Tawa (griddling on a hot thick iron plate), the restaurant proposed a varied South Asian menu; influences from India's largest province, Rajasthan, to cuisine in the style of the Indian/Pakistani dividing region, Punjab. Fish dishes such as the Ajwaini Wild African Jumbo Prawn also proved the barbecue wasn't just for carnivores, with grilling methods working just as well for fresh fish and shellfish. However, a shame for vegetarian customers, who only have non-grill dishes to choose from.
Our mains: a whole baked sea bass from the grill marinated in raw coastal spices and a green chicken curry from Goa with fresh coriander, tamarind, green chillies and mint. The fish was cooked perfectly and by far the best course of the night. But if you're like me, the largest course always is. A pile of peshwari naan bread for sides saw that our daily carb allowance was reached, and probably doubled. There wasn't a chance we were getting out of there with room for more.
But there's always room for more when dessert's concerned. There weren't too many to choose from, and it's definitely a good job I like mango, as the star of the evening, it appeared yet again on the dessert menu in the form of a cheesecake. Though saying that, I really fancied cheesecake and ordered it nonetheless. My comrade took the safe bet of ice-cream. The cheesecake was just how one should be; a base with bite but not too crunchy or soggy – a combination that can never fail – with a perfectly textured filling and a subtle flavoured top layer with pomegranate.
The spoon wasn't left between plate and mouth for more than a short moment. Though not out-of-this-world, it certainly didn't last long. The ice-cream was nothing exceptional either, but as with everything, was presented well – in three singular scoops on a long thin plate. It has to be said, if the meal had failed, the presentation alone would have earned it respect.
The dessert menu may have been limited, but the kitchen constantly updates its special's menu so there's always something new to try from the grill. Prices were good value, with mains ranging between 8 and 16 pounds. Portion sizes were liberal and our meal choices were beautiful in both presentation and taste. So if you're thinking of giving Namaasté Kitchen a try, you like a good grill (but you're not a vegetarian) and don't have a problem with mango, then book yourself a table.
Foodepedia visited the Indian bar and grill to sample their special menu in celebration of National Barbeque Week. Details on forthcoming specials menus and events are available on the Namaasté Kitchen website.