Neo India, 78 Westow Hill, London Se19 www.neoindia.co.uk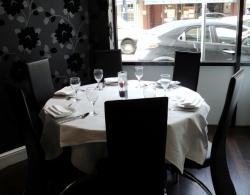 Crystal Palace has changed a lot since A and I moved here in 1991. McDonalds moved out, Caffe Nero moved in, estate agents sprang up like mushrooms, and – joy! – a place on the tube map. But one thing has been unchanged; it has always been an area with a generous choice of Indian restaurants. So the depths of SE19 are not, perhaps, somewhere that needs a new provider, but we're always on the look-out for a good new restaurant within walking distance, and here's Neo India, promising fine Indian and Mauritian dining. And hey, competition is healthy, no?
Truth be told, we had already tried Neo India's food through a home delivery. A few days later, and much to our surprise, we received a phone call from the proprietor, Hussein, asking for our opinion – and no, he didn't (excuse the immodesty) know that we were food writers. So from a service point alone, our expectations of the evening were sky high, and early signs were promising. The space is relatively modest (34 covers), and decorated in a deceptively simple style. Black and white features strongly, including a wall decorated with black flock paper. I took this to be a playful nod towards the past, but didn't like to ask. The lines are simple and clean, with a splash of colour at the bar; it felt modern and stylish, and with Hussein a welcoming, urbane presence, things were looking good.
But if Neo India has the look, what about the food? Again, our expectations were right up there; that take-away? It was excellent, and we were hoping for more of the same. The menu is quite substantial, and contains some rarities (crab and venison to name two – not in the same dish, I hasten to add), so we decided to ask for recommendations, albeit having given Hussein a steer as to our general preferences.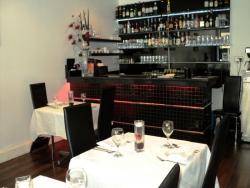 We're both rather partial to piaz (onion) bhajee, so that was a must as a starter, and they were splendid, light and full of flavour. We also had the Neo's gingham (skewered black tiger prawns with 'sauce rouge'), which was an excellent dish; the prawns were perfectly cooked with a great depth of flavour, the sauce rouge adding a touch of spicy heat. And of course, our eyes were bigger than our stomachs, so we also had the murgh tala – skewered chicken fillets, flavoured with garlic and sesame oil, and served with peanut sauce. This was a cracking starter; the chicken was beautifully cooked, the garlic subtle but nicely warming, while the peanut sauce was sublime, almost a mousse, but packed with flavour.
On to mains, and while we decided to rein ourselves in somewhat, we were only partially successful. But we did manage to limit ourselves to two dishes, plus two sides and rice; we knew that naan bread, though tempting, would be a step too far. At the risk of having Too Much of a Good Thing, we had the chingri baigan; more black tiger prawns, this time with aubergine, and cooked with mustard seeds and curry leaves. Generally, aubergine leaves me cold – funky to look at, dreary to eat – but this was a fabulous dish; the prawns were again beautifully cooked, and the aubergine had taken on deep flavours from the spices to become mellow and delicious. We also had the gohst kata handi; diced lamb cooked with ginger and whole chillies in a spicy sauce. It was a deeply lovely dish; the lamb was tender and delicious, while the chillies gave a bracing hit of heat – although crunching one of the little buggers released a big fiery wallop. We also had to have some sides (okay, I had to have some sides, and my all time favourites were on the menu); the channa massala was terrific, the chick peas had bite, with the massala sauce adding well to the flavour. And tarka dall, so often a watery disappointment, was nicely thick, combining texture and taste to pleasing effect. We kept the rice simple, just plain steamed basmati was all we wanted or needed, and while I felt a small twinge at the absence of the naan, it was the right decision to stick with the rice.
At this point, we would usually get the bill and a coffee before waddling away, but we decided to share a dessert, and plumped for the ras malai. In practical terms, it wasn't the easiest dish to share, but was otherwise the right choice, light and refreshing, it finished the meal off very nicely.
It's perhaps difficult for Indian restaurants to offer something different to norm, but aside from the quality and range of its food, Neo India also distinguishes itself by adopting a healthy ethos; this includes avoiding ghee and genetically modified ingredients, and always using fresh ingredients, rather than frozen. We had a really enjoyable evening at Neo India, and while Crystal Palace is well-stocked with Indian restaurants, there's more than enough on offer at Neo India to make it a regular fixture in the area. It's a welcome addition, and definitely one to try, whether or not you're a local.