14-15 Beauchamp Place, London, SW3 1NQ www.nozomi.co.uk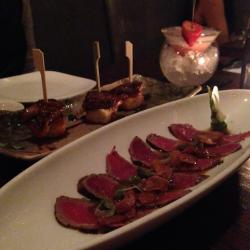 Welcome to Knightsbridge, home to Harrod's, to large expensive cars, to large heavy wallets, to fewer British passports than a residents meeting in Sangatte and some very very expensive restaurants.
I'll admit now, it's not really on my radar. I use Knightsbridge as a cut-through on a walk to the football and even then, early on a Saturday afternoon, I feel as if I should get out quickly, before I'm asked to leave. In my ill-fitting chinos, unpolished brogues and freshly ironed polo shirt, it's clear to all that I'm not a regular to the area – that, or I'm a recently enriched Russian who didn't get the memo.
Luckily, the girl on my arm was far better dressed, so we were allowed off the tube. Presumably, the locals thought I was some sort of poorly paid lackey, poorly trained butler or a charity-case, kept in a box and brought out for her entertainment, to dance for pennies.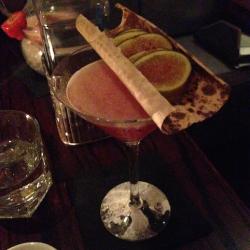 All stereotypes of Knightsbridge aside, the welcome at Nozomi couldn't have been warmer. Greeted at the door, given a choice of seats and cared for by waiters and managers alike, I felt comfortable here, even before I'd sat down.
Nozomi is a Japanese restaurant, serving up (in their words)'contemporary Japanese cuisine' and'eclectic cocktails'. While I don't know nearly enough about Japanese food to give credence to the first statement – they served sushi, sashimi and tempura, what more do you want? – I can safely say the cocktails were eclectic.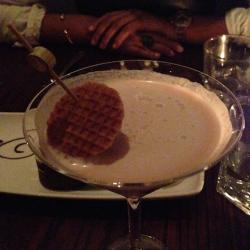 Every spirit under the sun is on offer here, mixed with every fruit money can buy. Although we tried a few, including the watermelon bumbum and a fruit cocktail that floated in a small bowl of ice, my favourite was possibly the simplest – the Japanese Old Fashioned. That said, as well as whisky and sake, they had flavoured this with hints of caramel and a stick of ginger, so not that simple after all. A nice strong drink, that takes a good while to sip, the caramel gave a sweeter than usual taste, while the ginger left a medicinal aura. Mmm…medicinal.
This place isn't cheap, mind you. Cocktails aren't too bad, coming in at £12.95, but small plates reach £20 and the fish courses from the al la carte are around £30. Then again, the menu does contain wagyu and foie gras, so it's not too surprising.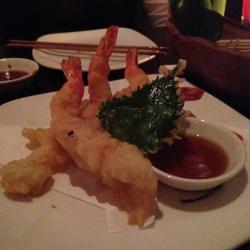 That's where we began: wagyu, sliced ever so thinly and sprinkled with charred sliced garlic. Then foie gras; served as a cube, balanced on a small piece of fried bread, with a thin piece of eel between the two. Both dishes were melt in the mouth – literally, they almost dissolved on the tongue and were swallowed without a bite. If this was the way things would pan out, we'd be in for a very good night.
Unfortunately, the next dish was a slight step backwards. The soft shell crab was fairly tasteless and battered in the thick batter I'd usually associate with a poor fish'n' chip shop. The other battered dish – tempura prawns – had tastier, lighter batter, but the prawns inside really lacked flavour.
And while we're at it, let's get the other poor dish out of the way: the sea bass, a large chunky piece of fish, burnt on the top and covered in a sauce so sweet, so sticky and so cloying that it ruined any trace of the fish beneath. A disappointment, as the waiter claimed it as one of the restaurant's signature dishes.
Hands dusted of disappointment, let's turn back to what worked. The black cod tempura, deep fried with chilli, was a real hit. Bite-sized pieces of deliciously spiced, tangy goodness, these were a moreish snack that I really wish we'd had sat alongside the earlier beer and foie gras.
As it was, the cod arrived after a series of delicious sushi and sashimi. Layers and layers of lip-smack, thinly sliced tuna, salmon, sea bass and prawn, served up on both a large plate and a miniature boat, floating on a cloud of dry ice. A piece of pantomime, not out of place in a smart restaurant that was also (can I use this word without sounding too uncool?) buzzing.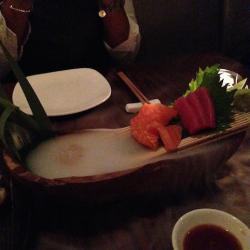 I've always thought of Knightsbridge as a crowded place on a Saturday. The Made in Chelsea set, rubbing shoulders with some celebrities, some minor royalty and the very best of Foodepedia's reporters. As it was, the former were all there in-force, Foodepedia's represented had to be me though.
Nozomi didn't disappoint with the loud music, packed bar and razmataz of sparkling cocktails, birthday cakes with flares and a man offering to wash your hands in the toilet. I'm not sure if the last one is necessary, but the rest is a reminder that this is a Saturday night. Finish that drink, order another, swallow some sushi and, most importantly, part-Y!