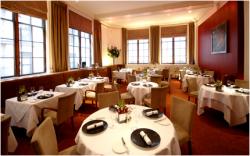 Dear bankers, I do not care that you are paying £26.50 for a dish of scallops at 1 Lombard Street the bar and brasserie because you have largely dodged the recession and they are quite nice scallops, though probably a bit steeply-priced for the ordinary Joe.
Well, gosh, it's a louche little place to hang out, with its grade II-listed interior, domed skylights and alabaster marbling. If you happen to be near the Bank of England and flush, 1 Lombard Street is a throwback to 1980s opulence with clientele latterday Loadsamoneys, perhaps with the odd Indian IT consultant sprinkled in. On a Friday evening, after the suits have disappeared, it was quiet but I understand the place thunders with city types in the daytimes.
"No pineapple," T is saying of his desired cocktail as I'm in the throes of admiring the vastness of the chamber. He's getting a tailored one with banana liqueur, rum and raspberry juice while I go for a light, grapefruity 2008 Riesling van Volxem from Saar in Germany.
Chef partner Herbert Berger – and what an appropriate name – has devised a menu pretty suited to the suits in that it's bullish, luxurious and international at once. We started with crab, prawn and avocado salad with basil oil, brown crabmeat, red pepper coulis and bloody Mary sorbet at £11.50. OK, a pricey starter but very good with the most delicate melt of bloody Mary crisp in the top of the sorbet like a huge Rolling Stones tongue. The Asian slow-cooked crispy pork belly with seaweed and cress salad and oriental vinaigrette had a good belly, steeped in a gentle fat but there was hardly any seaweed and instead a profusion of the ubiquitous rocket.
T, for mains, ordered the aforementioned seared diver-caught scallops with saffron and garlic mash, sauce vierge and pesto. The scallops were cooked correctly and nicely buttery, their intensity broken by the bite of the saffron and garlic. I'm a bit bored of swirly slicks of colour that represent ingredients but they did as sauces and overall, the dish was well-balanced and robust.
I chose grilled seafood with saffron and choroizo risotto with garlic and parsley juice in a pinot noir reduction. The clue, I guess, was in the word "grilled". I'd wanted a creamy subtle slick of risotto delicately flavoured with fishes but instead I got – and this would be great if you wanted it – five little griddled steaks of fish – lobster, halibut, tuna, sea bass and scallops, resting on top of a tiny puddle of rice. I can't fault it technically but ploughing through such meatiness reminded me of surf'n' turf without the turf, something probably ideal for loud meaty bankers but not for one as, um, delicate and nuanced as myself. 
We finished with a cheeseboard including a lovely Langres washed in Champagne and a goats cheese not too goatey – Galette des Templiers. The hangar was almost deserted by this stage but the arches still echoed with the dying sounds of the hawkish as we left the bankers to their scalloped lives and skulked back to Hackney.