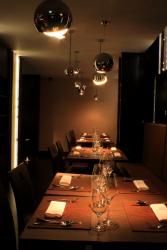 You can see ORA's shocking pink neon sign from a good distance away, so vibrant is it that it seems to throb. This new Thai restaurant, tucked away in Little Portland Street, is otherwise quite unassuming from the outside, but as you enter it's a different story.
You're greeted at a desk in the spacious foyer, before being escorted either to their rather comfortable and stylish cocktail lounge, or to your table in the restaurant's equally well styled dining area. We opted to go straight to our table rather than have cocktails before eating; it seemed sensible, given our penchant for a good martini and the odd occasion that's led to the loss of parts of an evening. The décor in the bar and restaurant is themed with pink and brown and has a subtle elegance about it. As we chose our meals in these lovely surroundings we sipped on a glass of some good crisp, nicely acidic Sauvignon Blanc, it always aids the decision making process, we find.
Starters arrived, together with the further glasses of the Sauvignon Blanc we'd ordered. The spice merchant, was an individual tasting plate of five different elements; a well flavoured crab cake that had a little heat giving it some bite, a tempura style prawn,a small dish of nicely al dente calamari strips in a similar light crisp batter, accompanied by a great dipping sauce, a tender piece of well marinated chicken and a lovely fresh crispy vegetable spring roll. We shared this and having eagerly devoured it between us, we moved on to the other starter we'd ordered, the savoury pancake. This was, effectively, a very thin omelet, filled with smoked chicken shreds, bean sprouts, herbs and finely diced coconut. Although looking quite substantial, this was light and refreshing with vibrant flavours and a fragrance form the herbs in the filling, which left the mouth with a great fresh feeling.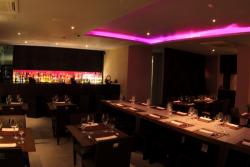 Moving on to mains, we had chosen the grilled chicken cooked in jungle curry with seasonal vegetables and the scallops in the house spicy sauce and sweet basil. The scallops were perfectly cooked little nuggets, well matched with the sauce, but not overshadowed by it. The flavours of the sweet scallops and the sauce were each bright and lovely, the dish was delicious. The chicken curry was in a thin sauce, but the contents were again well cooked and retaining their individuality in their challenging, but not fierce spicy liquor, we loved it. With these two mains, it was suggested that we had the pad Thai, a lovely mound of ribbon noodles with a good amount of juicy prawns, the whole dish having been tossed in a good sweet and sour tamarind sauce. We also had a portion of nicely fragrant jasmine rice, this ensuring we were able to soak up all of the curry sauce, so a wise choice. With these we had a bottle of the house red, a Corbieres which had a good fruitiness and nice body to it, supporting our mains dishes very well.
For dessert our server recommended we have the mixed fruit paperova (pavlova, effectively) which came accompanied by a tangy passion fruit and mango coulis, it was both light and refreshing. We also went for another suggestion, the chocolate cheesecake, which although a little rich, was velvety and creamy in the mouth delivering a great chocolate hit. These were two delightful confections.
The service at ORA was excellent, polished and professional, but friendly with it; everyone was very helpful and knowledgeable about the dishes. ORA has a really good feel about it, it's smart and comfortable, a great space to take your time and enjoy a meal, or perhaps just have a martinin at the bar. But don't just take my word for it, check it out for yourself.
ORA have a series of four Jazz Sundays in March and April, to read about these and the offer related to them click here.