15 Greek St London W1D 4DP www.patarathailand.com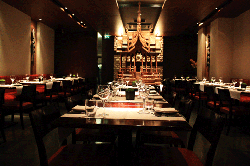 Patara has four restaurants dotted round London's hot spots but I dined at the flagship venue in Soho: two floors of relaxing candle-lit ambience with an elaborately carved pagoda centrepiece and giant jungle orchids, at least I think it was a pagoda or some kind of tiny temple? I can offer more authority on the authenticity of the orchids which I know were real because I bit into one slightly. The space is very attractive and throughout the meal I found myself passing a covetous eye over fixtures such as the chunky ceramic bowls; I also spent quit a long time in the toilets running water into a beautiful carved wooden sink.
Ours was a multinational table and collectively we represented Australia, Netherlands, China, Ireland, Iraq the Isle of Man and the UK. We could have formed our own coalition or pose for a Benetton advert. In fact we all met on a small boat headed for Olympos last summer; languid days spent swinging from a hammock while Captain Mustafa dived the ocean for dinner each night. Except the night we had sausages.
Yun had the tuna tartar to start which was technically more of a carpaccio; a gorgeous plate of delicate pink fish refreshingly flavoured with citrus and spring onion. My fish and prawn cakes were sweet and meaty morsels fragrant with sweet basil and lemon grass, while Katie's king scallops were kept fresh and simple with chilli, lime and crispy basil. Portions are on the generous side but the cooking has a lightness of touch that keeps things manageable.
Gressingham duck breast stir fried with chili, garlic and deep fried crispy basil was deeply savoury, the basil giving little banknotes of sweet peppery anise to the tender meat. Andre's grilled wild boar sautéed in red curry sauce with crispy basil was a surprisingly subtle flavour, the meat had been thin cut and the resulting texture was nice and soft, accompanied by some deliciously spicy sauce with a real kick. A milder dish was the lamb fillet with wild ginger, green peppercorn, fried crispy basil and red curry sauce. I wouldn't associate lamb with Thai food, but the top quality meat hadn't leaked fat into the sauce which had been cooked separately and the flavours worked well.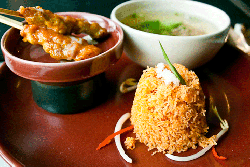 We shared a couple of desserts; baked banana and a taro pudding both served with homemade coconut ice-cream. There's not much that can go wrong with a baked banana, and thankfully they hadn't been left in the oven until the sinister grey fruit was the consistency of a potato, because what kind of fool would do that? Taro is an Asian root vegetable not dissimilar to sweet potato or cassava and the taro pudding comes in a little sugar-topped ramekin. Despite being suspiciously mauve, it had a pleasantly nutty and wholesome flavour that reminded me of bread-and-butter-pudding; the coconut ice is a sweet and rich accompaniment, although personally I think it might have benefited from some crispy basil?
If you like Thai food then you'll love Patara and if you don't then I'd give it a shot anyway because you might just change your mind. It's a good-looking venue and a great place to meet up with friends for some relaxing indulgence and a few bottles of lovely Singha beer – service is assured and the food demonstrates enough skill to put it head and shoulders above much of the competition. So here's to dining with friends and deep fried crispy basil: the stuff great nights are made of.