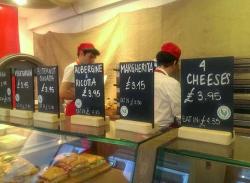 Pizza Rossa 4-12 Whittington Avenue, Leadenhall Market, EC3
If you work around Leadenhall market and don't have the time or the income to eat in a restaurant at lunch, the choice of takeaway or fast food is not great. The usual suspects of cold and wet sandwiches, plastic boxes of salads, Marks & Spencer things in trays etc etc.
In a currently vacant shop though Pizza Rossa offer an alternative with their by-the -slice pizza concept; low calorie pizzas with bases that won't stodge you out. And they do packages – the Healthy deal – any vegetarian pizza, a portion of freshly cut and daily prepared fruit salad, and a juice or the Indulgent deal which  includes any premium pizza, a home-made tiramisu' and a coffee.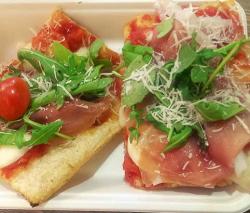 Well we are nothing if not self-indulgent so we went for the latter and there's plenty of pizza choice that's for sure. Today it's aubergine and ricotta; butternut squash; four cheeses; wholenut, spec and honey; ham, potato, cream and courgette and quite a few more.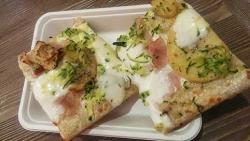 The bases are a honeycomb structure which makes them light but not fragile. If you're going to eat pizza on the run you need to be able to get it to your mouth without it collapsing and a classic liquid centre pizza is no good at all.
There's a pleasant sourness to the base and no sense that it will carry on fermenting long after you've eaten it, the reason so many cheap pizzas make you feel bloated. The base is also low calories, no added sugar, no preservatives, low gluten and vegan. All the slices we tried had a fresh feel to the toppings and the nduja certainly had a kick to it, you tend to forget that Italians love chilli too.
Definitely worth trying a slice or two as well as the pasta specials and the desserts are deliciously sticky too.