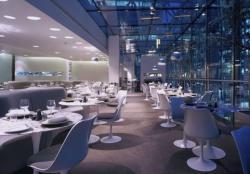 As you enter this vast place, through Plateau Bar and Grill into the main restaurant, you're struck by the unmistakable Conranian style of its interior. There's that slight retro feel about its ergonomic furnishings which have a timelessness that Conran restaurants and former Conran restaurants, like this, seem to capture.
As we were seated at a window table, the outlook across Canada Square, towards the original Canary Wharf building and the regimented glass clad buildings that now surround it, we had a glass of Champagne while we browsed the menu. We chose from the A La Carte menu and as we waited for our first course some very good bread and butter was brought to the table for us to nibble on.
Starters arrived and the nage of Scottish sea scallops, broad beans in a vermouth and chive velouté was a divinely delicate dish. The bowl had an ample portion of scallops, which had been cut into discs about 1cm thick and poached in a beautifully creamy velouté that had just a hint of vermouth and a slight herbiness, the broad beans added a nice textural contrast to the dish. it was a joy to eat. The English parsley risotto and sauté of snails with garlic butter was very fresh tasting, the risotto vibrantly green from the parsley, the rice just al dente and topped with a good amount of snails that had a great texture, there was just a hint of garlic and a little tang that brought the dish together well. These were two beautifully executed dishes that not only looked attractive but had great flavours.
For mains the roast fillet of beef was amazingly tender and had a wonderful texture, having been cooked medium rare as ordered, it was a lovely piece of meat. This came with a sauté of wild mushroom accompanying the beef well and providing a little sauce for it, fondant potato and roast bone marrow completed the dish. The roast duck breast with seared foie gras was a picture on a plate, the foie gras, sat on a tart tatin of endive, was rich and had a lovely smooth texture. The duck breast, delivered medium rare, also as requested, was a delightfully tender and flavoursome piece of meat. Sides of buttered curly kale and wilted spinach were perfectly al dente and a little pot of creamed potato was well seasoned, smooth and voluptuous. We enjoyed each of these mains enormously.
A little full, we still decided to go for dessert, of course! The blackberry soufflé was a good sized confection, pale on top but cooked through. It was a deliciously pink/purple colour, there was a firmness to this delicately flavoured soufflé, but it was still light and an excellent dish to finish with, this was accompanied by a sour cream sorbet that balanced the slightly tangy and not overly sweet soufflé perfectly. The Vanilla crème brulée was smooth and mouth coatingly gorgeous under its crisp crust. Paired with poached champagne rhubarb and sorbet the contrast between the vanilla custard and the rhubarb made it heaven on a plate.
At the Sommelier's suggestion we had wines by the glass with our meal, a Vermentino, that had some body, with the risotto and a Chablis, that was crisp and sharp with the scallop, each matched well with their respective dishes. We each had Rioja with our mains, the smooth fruity red with a little edge matched well with both of the meats, softening remarkably well with the food. There's a good selection of wines by the glass, starting at £4.50 and bottle prices range upwards from £18. Service at Plateau was smooth and efficient; they have a good team that work well together.
Apart from the A La Carte menu, Plateau has tasting menus – Menu(s) Gourmand – that you can, should you wish, add a flight of wine to at a very reasonable additional £20, there is also a menu du jour and the Bar and Grill has its own different menu. Plateau is an excellent place to go for a special meal to wow your guests not only with the food but also the environment and the views. On the level, it's an impressive restaurant.