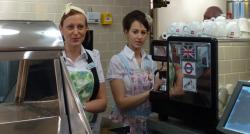 In all the rush to elevate what was once working-class food to the status of must-have dining, the dear old fish and chip shop has been rather passed over. Burgers now rule and its rumoured that fried chicken is next for the foodie makeover, as it must be the only dodgy fast food that hasn't yet been pimped and pushed hard on Twitter.
Of course it wasn't just burgers that did the old chippies in, but they didn't help. Chippies simply couldn't compete with the allure of the brash, futuristic Americana of incoming McDonalds. The chippy seemed pathetically out of date to kids growing up with transistor radios and colour TVs, and I should know as I was one of them.
Fish and chips is a product that relies on fast turnover, as cooking it to order takes too long for our modern speed-obsessed takeaway purchaser. It needs to be ready to go when the customer comes in but unfortunately cooked fish only lasts so long in its heated glass aquarium before losing its delicious crispness. This creates a vicious circle; customers don't want soggy fish but neither do they want to wait for it to be cooked. The result is that they don't bother at all and simply go off get a filthy kebab instead.
So it's good to see Poppy's, a 'traditional' chip shop in perhaps the least traditional place in London – Shoreditch. I didn't intend to go in, I was just walking past guv, honest, but it looked so inviting and the smell coming out yanked me right back in time. So almost without knowing how it happened I found myself sitting at a table and being more excited about eating something than I have done for years.
Poppy's was founded by East Enders apparently, although Eastern Europe might seem closer to the mark – the waitresses in 50's mop caps talk in seductive Slavonic accents and most of male staff have the unmistakable looks and build of men from beyond the old iron curtain. Not that they weren't charming people, jovial even, and who wouldn't be with crowds fighting for a table and the money rolling in?
I liked the original looking fryer and serving station, not as high off the ground as I recall from my youth but of course I was lot nearer the ground back then. The American Juke Box was out of place stylistically, but still good to see, and the menu had fancy fishy items not seen in the heyday of chippies.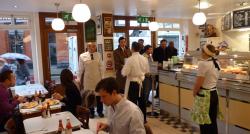 All I wanted was cod and chips and mushy peas though, and it landed nice and quick, the Billingsgate fish golden and crunchy in its batter jacket and underneath as white as the driven snow. The chips were just as I remember them, fat but not jumbo and gently crisped. Back in the day we'd probably have been surprised to find our fish served with mayo and a lemon half, but that was the extent of the pimping and no harm done, quite the reverse in fact.
A bottle of beer was perfect to wash it down, although anachronistic wine was also on offer, all that was missing was the unique extra flavour that newspaper imparts. My dad used to insist that it tasted even better out of real newspaper with the print still on it but I imagine it would be regarded as carcinogenic today. Still I'd rather eat from inky paper than a Styrofoam box.
It's not cheap, but then fish isn't cheap these days, especially cod. It is however about as healthy as fast food gets and it's certainly great quality and cooked properly. I doubt we'll ever see a return of the high street chippy, but Poppies' gently ironic take on the past is certainly welcome.