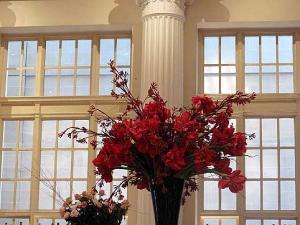 They say that as you get older, policemen start to look younger. Well that applies to waiters too. The fresh faced kid serving us bread in Prism seems so youthful I'm tempted to ask why he isn't back home studying for his mock GCSE's next week.
Maybe it's the contrast between him and the clientele. Here, in the heart of the City, and at the well-spaced tables, there are men with thickening waistlines and receding hair, and that's not just me and J. Mind you most of these City places are like this at lunchtime as business deals are dined and done.
It's had a makeover, this ancient Bank of New York banking hall with its marvellous light, impossibly high ceiling and Greek columns. They've replaced the loud art on the walls with subtler stuff, taken out some tables to make more room for the evening bar crowd and, most tellingly, changed the food style. It's now more Brasserie than restaurant in sharp marketing alignment with the current zeitgeist of keeping spending discreet in the City.
It's obviously working for them as the place is busy and the wooden platters that are the 'crockery' Prism favours, are whizzing about. One comes to our table complete with a selection of nibbles; chorizo chunks phallicly upright in a thick puddle of aioli, prawns immersed in garlic and lemon (although it tastes like orange to me), some anchovies wrapped around feta and quails' eggs with celery salt, the latter located in a special depression in the wood. These go down pretty well while we look at the menu.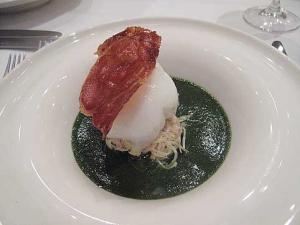 It reads attractively, a roll call of things that are cosily familiar and comforting. The only jarring note being a section called Dan's Allotment Choice. Firstly I don't think any allotment has salads growing on it in November, and secondly it's the sort of teeth-grating way with words that provincial restaurants favour, along with low hanging roof beams that have 'Duck or Grouse' written on them.
That grouse aside, J's pumpkin ravioli (or, as it's just one, perhaps raviolo?) starter with raisins, sage, rocket and parmesan shavings gets a big thumbs up, literally as he won't stop eating to speak to me. Later he says the flavour combinations were wonderful and it's true that sage and pumpkin always marry well. The salty parmesan and the raisins also form a winning double act. He was still singing its praises the next day, it was that good.
My own starter of poached duck egg on celeriac remoulade, moated by watercress sauce and with a slice of oven-crisped Parma ham sailing jauntily above is dramatically good-looking. The contrast between the crunchy remoulade and the perfectly poached egg is well judged, but it's all a bit flat in flavour. I am about to do the unthinkable and reach for the salt when suddenly I hit the seasoning. It's been sprinkled on one side only, so the intention is there, it just missed the mark.
Steaks are big news here and come with an equally hefty price tag. All the meat comes from the Ginger Pig, a place that I personally think rather takes the p*** with its prices. J's Langham sirloin steak, dry aged for 50 days, is perfectly cooked and he says it's very tasty indeed. For £34.95 including a small cup of chips and a choice of sauce, it really ought to be I reply grumpily.
My spatchcocked poussin has great crisped skin with loads of flavour from being well charred while the meat underneath is tender and sweet. You have to really work at getting the meat off a poussin, and the annoying foliage tangle of watercress on the board doesn't help, but it's worth it when you do. Chips are crisp and the spinach is surprisingly and pleasantly free of sogginess. It's sadly seldom that kitchens get spinach right.
Dessert of a warm pear clafoutis with ice-cream is perfectly okay, but the cake, whose name I have forgotten, is as dry as a witch's what-not and without the cream would be unbearable.
Come 2 p.m. and the place suddenly empties as if the fire alarm has gone off, leaving us pretty much alone. 'No one wants to be seen to be taking long lunches,' remarks J sagely as we get our coats. He's right; the mood in the City is to pretend to be sorry and to work hard in penance. Prism has done the right thing at the right time, reinventing itself as somewhere to lunch that, steaks apart, is modest and reasonable.
If that waiter gets his GCSE's he should be exiting university just in time to catch the next upward financial wave and Prism will be a restaurant again. Meanwhile as a braz it's bowling along nicely and ageing well.