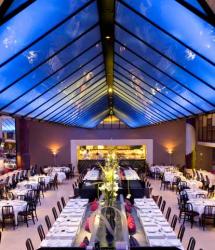 A very good restaurant should always make you feel comfortable no matter what. In its dining room, Quaglino's manages it with aplomb – despite my initial fears that a posh Mayfair hangout (brasserie or not) would have me embarrassingly shrinking turtle-like into my scruffy post-work shirt.
Admittedly, things did not start particularly well on the service front. Having decided to have a drink in the bar before our meal, it took two harassed-looking bar staff 20 minutes just to take our order, although our cocktails were very good once we got our hands on them. Going tie-less seems an even better idea with some refreshing booze in hand. Other punters, while many smartly-dressed, banker-types, are clearly feeling just as laid back. A family on one table is taking snaps of their kids, one of whom is decked out in a Disney Princess-like get up and 'mum' does a screen siren pose on the sweeping staircase that leads down into the dining room.
This being in the middle of the Wimbledon tournament, Quaglino's is decked out accordingly with little squares of turf and tennis balls dotted around the modern dining room, which looks a bit like a space ship, all glass, bright blues and greens. At least, a spaceship with a seafood bar, so the best kind: 'Scotty, I'd like a crab salad please old chap'.
Brought up in a household that didn't allow the telly on while we had dinner, I didn't feel entirely comfortable at first, having two large screens beaming the tennis into the vast main room. The squealing from lady tennis players could have put me off my bread and butter, if nothing else. But actually the tennis is on mute and I have no problem demolishing my slice of bread, and in fact the screens again help to disperse those fears I had of stuffiness. This might be Mayfair, but it's still a brasserie.
Service is charming and prompt, a sommelier doesn't make us feel at all like the wine philistines we are when we question a 'fizziness' with the biodynamic wine he's helped us order. He tells us this is perfectly normal, suggests letting it air and arranges for larger glasses – and it works! Brilliant!
I start with a substantial lobster bisque and A orders the seared tuna with a ponzu dressing, which is nowhere near as substantial but still comes in at £14. Mine is rich, sweet and punchy with a little chilli which adds a bite, although I'm not so impressed at having to spit out a couple of shell shards – not what you want from a kitchen headed up by Darron 'Bunnie' Bunn, who's worked with Marco Pierre White and has had plenty of Michelin stars under his belt in the past. Despite that, I'll tell anyone who'll listen that a friend had the same problem at a certain Mr Pierre Koffmann's eponymous joint in Knightsbridge, and I still love him. So there.
Confit duck for main is very good, falling from the bone just as it should with good crisp skin, but puds are probably the highlight. The petit fours comes with a white chocolate truffle with thyme which has us fighting over it while my excellent treacle tart, admittedly always a favourite, arrives with a dollop of very naughty clotted cream.
We enjoyed ourselves in the Quaglino's space ship; decent, well cooked food and excellent service, but we left with the feeling it hadn't quite hit the stratosphere like it could have – good, if expensive, but not out of this world.